White-labeled software has many advantages;Many areas of business are already using white-label digital solutions;There are several types of white-labeled software;What does the Brainy HR White Label Solution dashboard look like and what is its functionality? Read more about this in our article.
White-labeled products are growing in popularity, but many people still don't get how they work.
The topic is still relatively unexplored, despite the abundance of white-labeled products and digital solutions.
There are so many possibilities with a white-label solution.
Which ones exactly? In this and the following articles, we'll talk about it.
Due to the topic's extensiveness, we don't want to write a long read with a lot of information you might not remember.
For your ease of reading and understanding, we'll make small articles one by one.
We're talking about White-Label HR Software because we have experience with it
The Brainy HR developers just finished a white-label version. It wasn't easy, but it was worth it.
Would you like to see how it works in action? Get free access to Brainy HR's White- Label version.
What is White-Label Software?

White Label software is a type of software solution that is developed by one company and then rebranded and resold by another company under its own brand. Resellers can offer their customers software solutions without having to develop them themselves. Thus, there are obvious advantages to reselling under one's own brand because it saves time and money compared to custom development.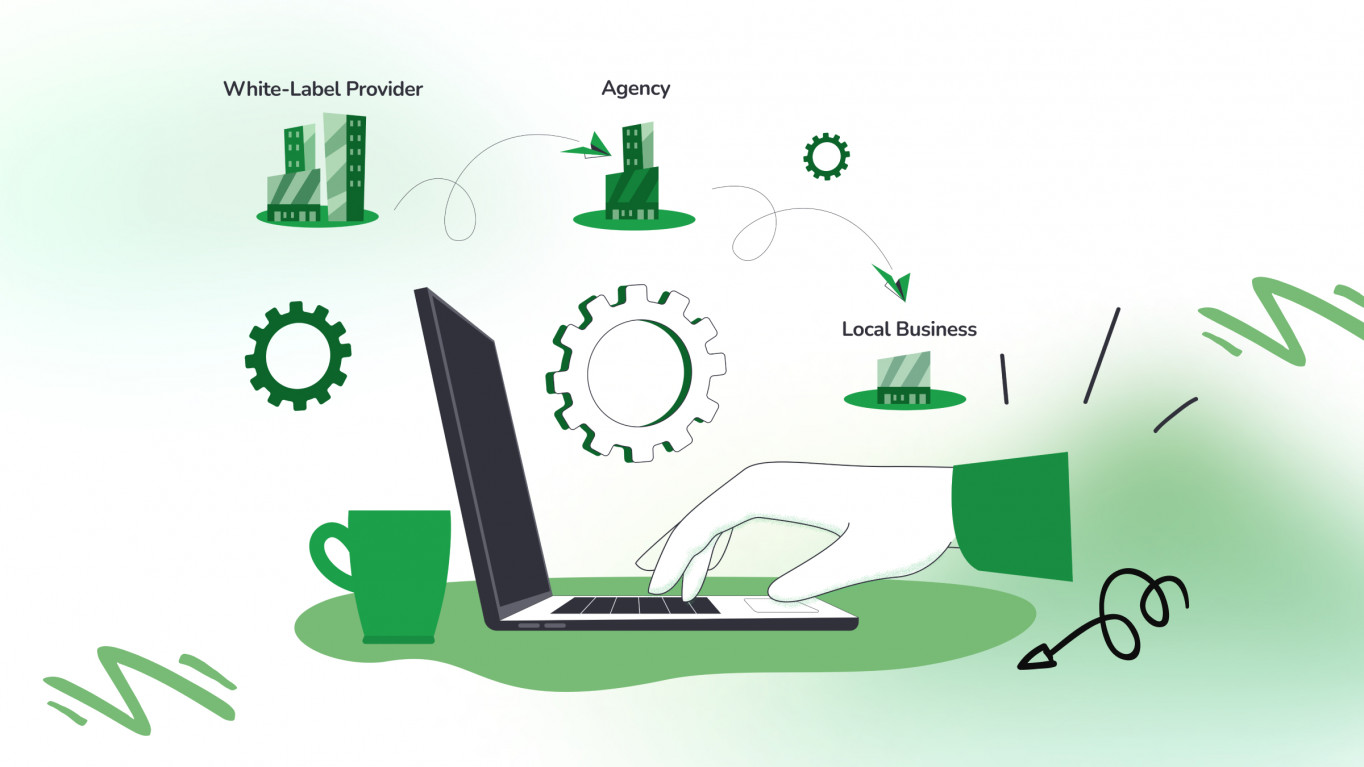 Additionally, a reliable and proven provider will provide ongoing support and software updates, so your reseller company's customers stay competitive and up-to-date.
Software that's white-labeled can take many forms, from web apps to mobile apps to sales and marketing automation tools.
There's a market trend of software solutions with white labeling in the segment of marketing automation. There's a lot here. We also develop our product in other sections, like HR, which is convenient and useful.
White Labeling HR Software - It's a good option for a company to customize the product and maintain its own identity. An architecturally complex and intuitively simple product, for only 19 cents per employee per month.

Michael, Brainy HR Support Team Lead.
By the way in more detail about Brainy HR White-Label Solution you can read here.
What are the types of White-Label software?
Would you like to automate your marketing or sales? Or maybe you want to automate the HR routine? Maybe you're planning an event and you need a digital tool?
There are already White Label solutions for all of these, and we think their number and variety will only grow.
So, let's talk in more detail about the types of White Label solutions and you can see real examples.
The main types of White Label Software:
Websites and e-commerce platforms. Businesses can create and manage their own websites and online stores using these types of software solutions;
HR White Labeling Software. It's a human resources management platform that you can rebrand and sell.

Companies that need a platform to automate HR routines from vacation management to rewards management can save a lot of time and resources.Since we also do White Labeling HR Software, we'll use our product as an example;
Payment processing software. Software solutions for white-label payment processing allow companies to process payments on their own websites or apps;
Marketing management software. Companies can manage integrated marketing tools and analyze marketing results with white-label marketing software;
Customer Relationship Management (CRM) software. Companies can manage customer relationships and track interactions with their customers while maintaining their own brand and identity with white-label CRM software;
Event management software.Event management software lets agencies and event organizers handle everything from registration to visitor engagement, sponsorship, and communication. Event organizers can create custom event websites, registration forms, virtual environments, and mobile applications that match the client's brand identity;
White-Label software is a flexible and cost-effective way for companies to offer software solutions under their own brand name without investing in development.
How does the HR White-Label Software dashboard look?
The HR White-Label Solution is HR software that has been purchased by the company and has been branded as its own. Can be used for internal company purposes or for resale.
Here's our Brainy HR White-Label Software dashboard.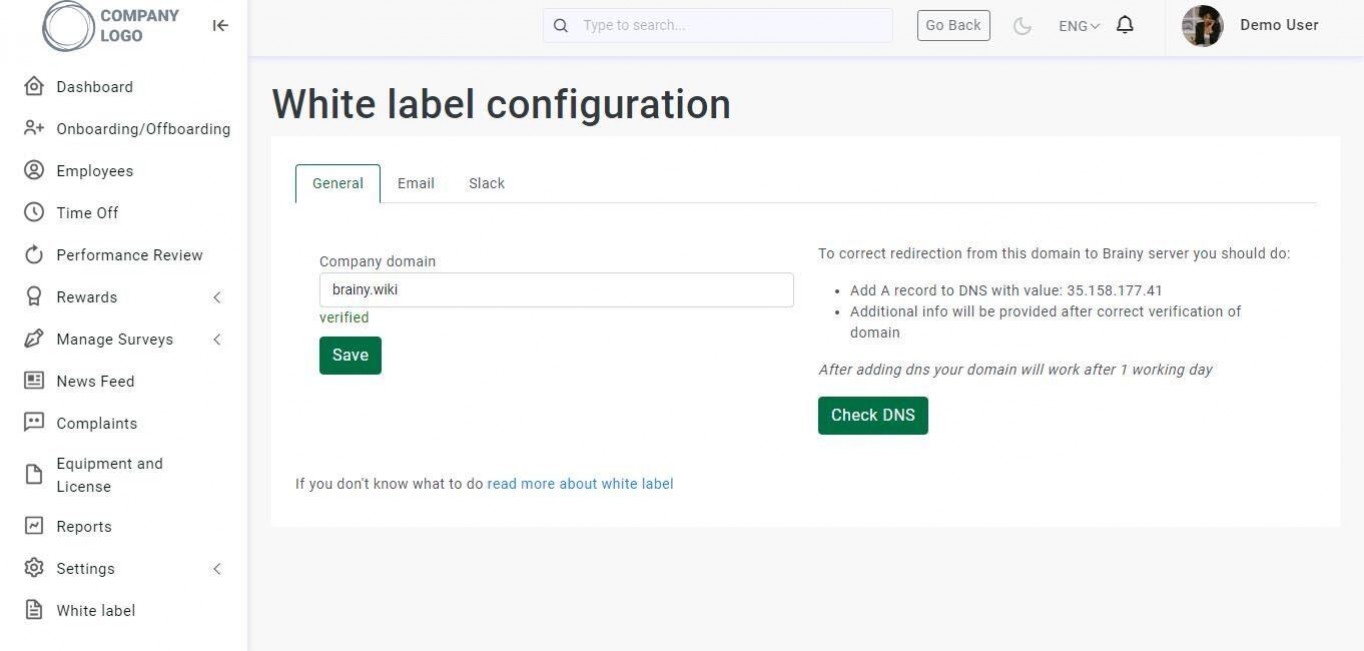 Under your brand and domain, you can use all the features.
Our solution is easy to activate, simple to use, and fast.There's a special guide for this. Click here to read it.
You can test Brainy HR White Label Software for free for 7 days, and get a demo session with our expert on how to most effectively use the software.
Summary
Today, there are a lot of white-labeled platforms and services. Depending on your needs, you can add a solution for internal use or for resale.
It's possible to solve many tasks from many sections of the business with white-label software.
In fact, there are several types of software with white labeling, and we predict that the number and variety will only increase. Don't miss out on the trends.
If you are looking for an easy-to-use and highly customizable hr white-label solution for internal use or for resale, we suggest you take advantage of the free trial period of our Brainy HR White-Label Solution.
Be one step ahead of your competitors and lead with technological solutions.
​