How does White Label HR Software work and what are the benefits?
White Label Software is software that is purchased by a company from a service provider and rebranded as its own.
Once you rebrand under your own logo, you can sell this solution to other companies. How? Let us know your contact info and a consultant will get in touch.
Using White Label HR Software has the following advantages:
Customizable branding. Because the software is white-labeled, businesses can customize the branding to match their own brand. Employees and clients will get a smoother and more consistent experience;
Scalability. The software can be scaled up or down as a company's needs change. In other words, businesses can add new HR features or remove old ones depending on what they need;
Time and cost savings. By implementing white-label HR software, businesses can save time and money. It reduces administrative overhead, eliminates manual errors, and reduces the amount of time and resources needed to manage HR tasks;
Better compliance. With ever-changing HR laws and regulations, it can be challenging for businesses to keep up. White Label HR software can help companies to stay compliant with the latest regulations by automating compliance tasks and providing alerts and notifications when changes occur.
The bottom line is White Label HR software can help businesses become more efficient, reduce costs, and improve their HR processes. This is a valuable tool for any company looking to streamline its HR operations and stay competitive.
What's the difference between a Custom Software Solution and a White Label Solution?
Use our comparison table to understand their differences and make the right decision for yourself.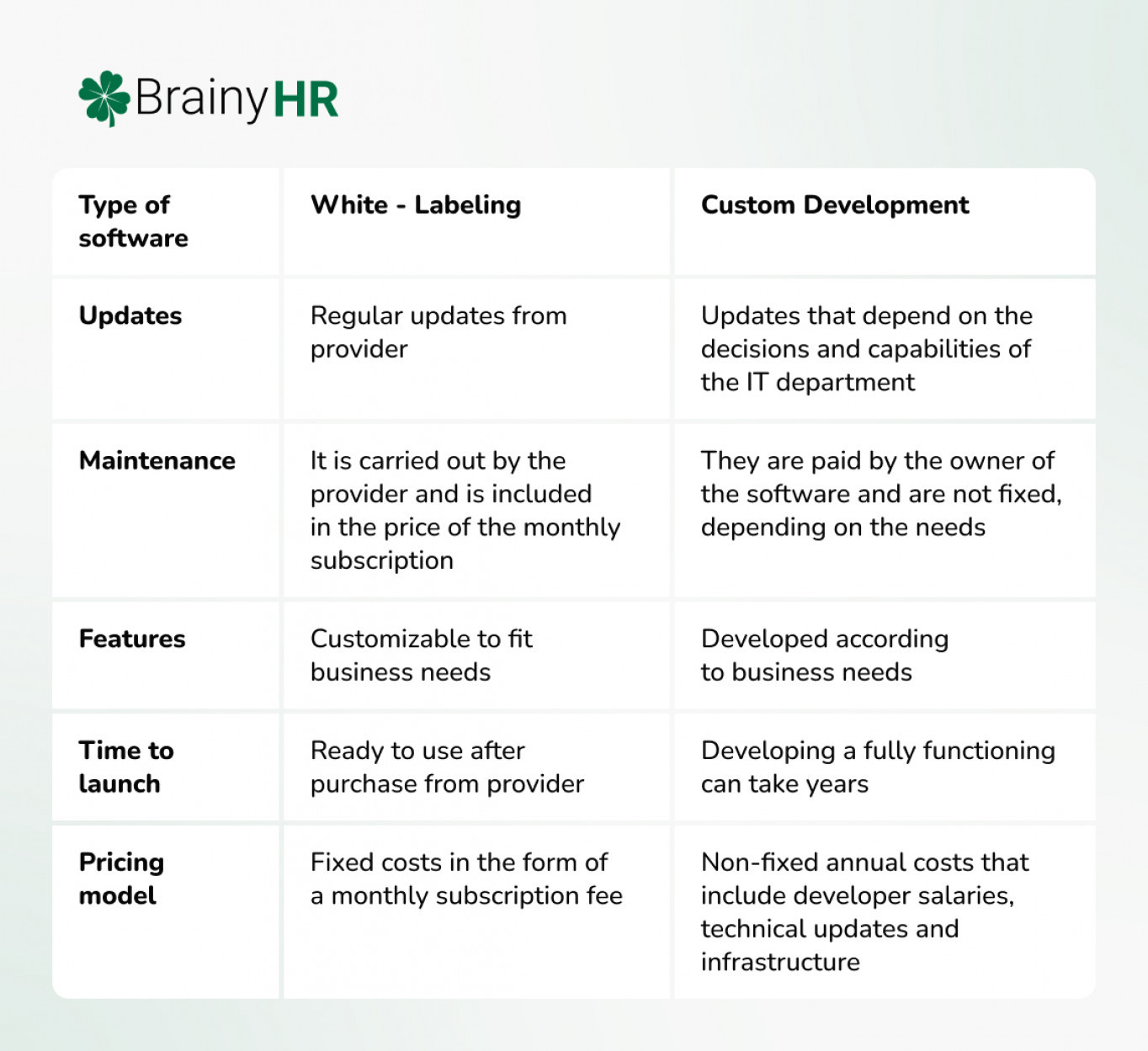 Would you like to try Brainy HR's White Label version?
Follow these steps if you would like to use the White Label version of our HR software for your company or if you want to resell it:
​Visit the "Pricing" - White Label section of our website;
Send us your request;
You'll be contacted by a White Label specialist to schedule a demo. Check out why a demo session with a specialist is worth it;
Once you've used the trial version for 7 days, make a decision.
​Here's a guide, but you'll learn how to use it during the demo.
Summary
White Label services and products are getting more popular lately because they have so many benefits.
In the case of White Label HR Software, you can use such a solution just for your own company, so you can also sell it to other companies. It's all about defining your goals and needs.
Whether you're still new to White Label Software or don't know if it's for you, contact us and we'll give you some advice.
​