Consultation and HR platform demonstrations are essential for choosing the right HR software;Make a list of basic and additional questions in advance to get the most out of it. The result is worth the time;There are a lot of HR platforms on the market, and they all have different features. Finding something that fits your needs is your main goal.
Did you ever sign up for a platform, but when you got there, you didn't understand the functionality, you felt some difficulties and left it?
It happens a lot. You're seeing new functionality for the first time, you don't know how to use it, and so much new information can make you stressed.
That's why it's best to start with a professional consultation.
Advantages of demo HR software:
You don't waste time learning the platform yourself;
It's not stressful because there's someone on the other side of the screen who can answer your questions;
The entire consultation will show you how this service can help you solve your current business problems;
Or can't. And knowing this, you can't go wrong with the choice of an HR platform;
You'll definitely understand everything about the functionality and you won't have to research it yourself.
​
When I conduct demonstrations of our Brainy HR platform, it generally takes from 15 to 40minutes, depending on the complexity of business processes and the company's structure. We try to demonstrate how everything works and make the initial configuration of the user profile. After the demo, the customer will have a lot of information to make a final decision.

Michael, Brainy HR Support Team Lead.
Questions that you should prepare for the HR software demo
Today, there are a variety of platforms on the market that help businesses, online demonstrations can be used to best classify business needs, adapt our technical solution, or advise otherwise if the expected result of a potential buyer does not match our vision of solving the problem.

Michael, Brainy HR Support Team Lead.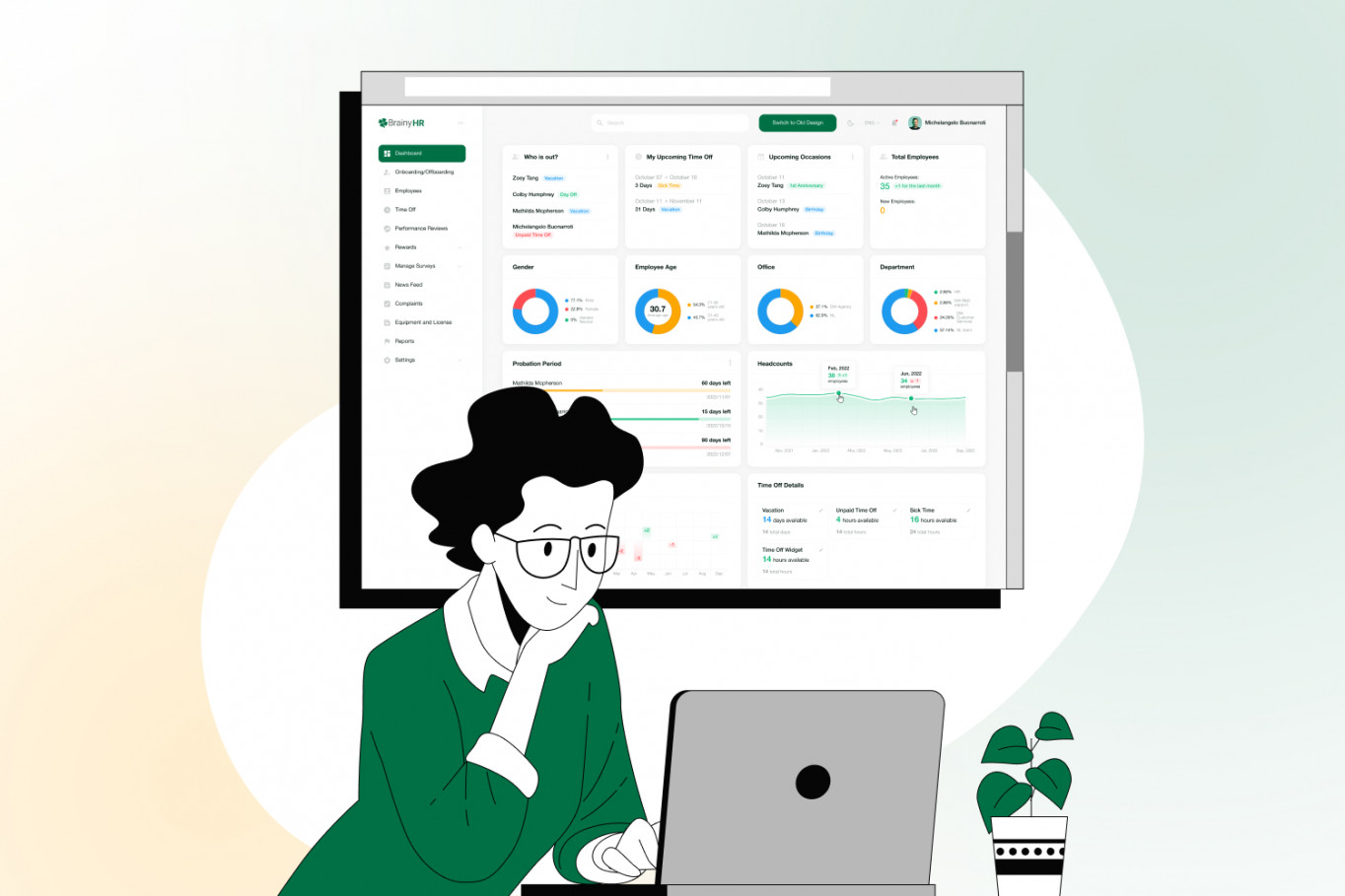 Get ready for this presentation so you can communicate with a specialist and familiarize yourself with HR software.
Schedule a meeting, plan an hour, and prepare basic questions that will help you understand the topic as much as possible.
With the answers, you'll be able to evaluate the offer and see if it's right for you or if you should look for something else.
No matter what your goals are or what your subjective preferences are, you need to learn about reliability and basic functionality.
You need to ask your HR provider these questions to make sure you choose the right HR system.
General questions
What modules do you have?
As a business, you have to assess your needs. Maybe you need to track time and attendance, manage recruitment and onboarding, automate workflows, or all of the above. You need to know what a supplier offers or may offer in the future.
How do you ensure data security?
You know why this is so important. Your data and your employees' data shouldn't be at risk.
What is the privacy policy on your server?
Is there a phone app?
How platform integrate with other systems?
With any organization, there are bound to be additional services and systems you use every day that need to be connected to HR. Before moving forward with the software, knowing whether they can be integrated is handy.
Configuration
What parts of the system can be customized to meet your organization's needs? Can you quickly develop processes and workflows, or will you need to work with a development team?
Ability to grow
How will the platform adapt to your company's growth? Are there performance management capabilities? Will you have to change and adopt a different version of their system, or will it grow organically with you?
Does the solution send notifications from the dashboard? Are you notified by text message, email, or both? Can you adjust the notification frequency?
Payments Questions
How will you be charged for the human resources management system? Will it be on a per-employee or per-pay period basis? Will there be any processing fees and how are they calculated?
What's the cost of implementation? Are there any other one-time fees? How much do these fees cover?
Are there any additional costs?
Find out if your potential HR software provider has any additional costs. See how it is described in our example​
Training-related questions
Does the provider offer instructor-led and self-directed learning? Is there a help center with articles and videos to improve system knowledge? Do they offer system upgrade training? What coaching tools are available for internal training? Will they charge extra for additional training as needed?
Questions about support
Find out in which cases you can count on the support of the service team. And what are the problems that you will suddenly have to solve on your own?
We wrote a list of fundamental questions to ask when choosing a platform.
Of course, if you have other specific needs, you should say so at the consultation, so you can expand our list of questions depending on your needs.
The main thing is to write down these questions and prepare for the consultation so that it is as efficient as possible for you.
Summury
Your main goal is to learn as much as you can about the service and understand, based on the questions, whether this particular software will meet your needs and solve your problems.
You want to make sure you make the right choice, so if you're really determined to buy HR software, take the time to see how it works and talk with a specialist. And of course, you can also register for the Brainy HR online demo. We will be glad to talk with you about your needs in human resource management.
​