We are happy to inform you that new Rewards Module has been added to the BrainyHR - smart human resources management software.
Engaging everyone across your teams, departments, and locations with social recognition, Rewards Module helps people understand what it means to embody your company core values and how contributions of all kinds support your mission.
BrainyHR's reward points system gives you the ability to implement unique programs that drive employee engagement. Points can be awarded for a wide range of actions and employee activities.
Configuring Reward Points.
Settings=>Rewards
The BrainyHR Reward configuration determines how reward points are presented in the system and defines the basic operating parameters:
GENERAL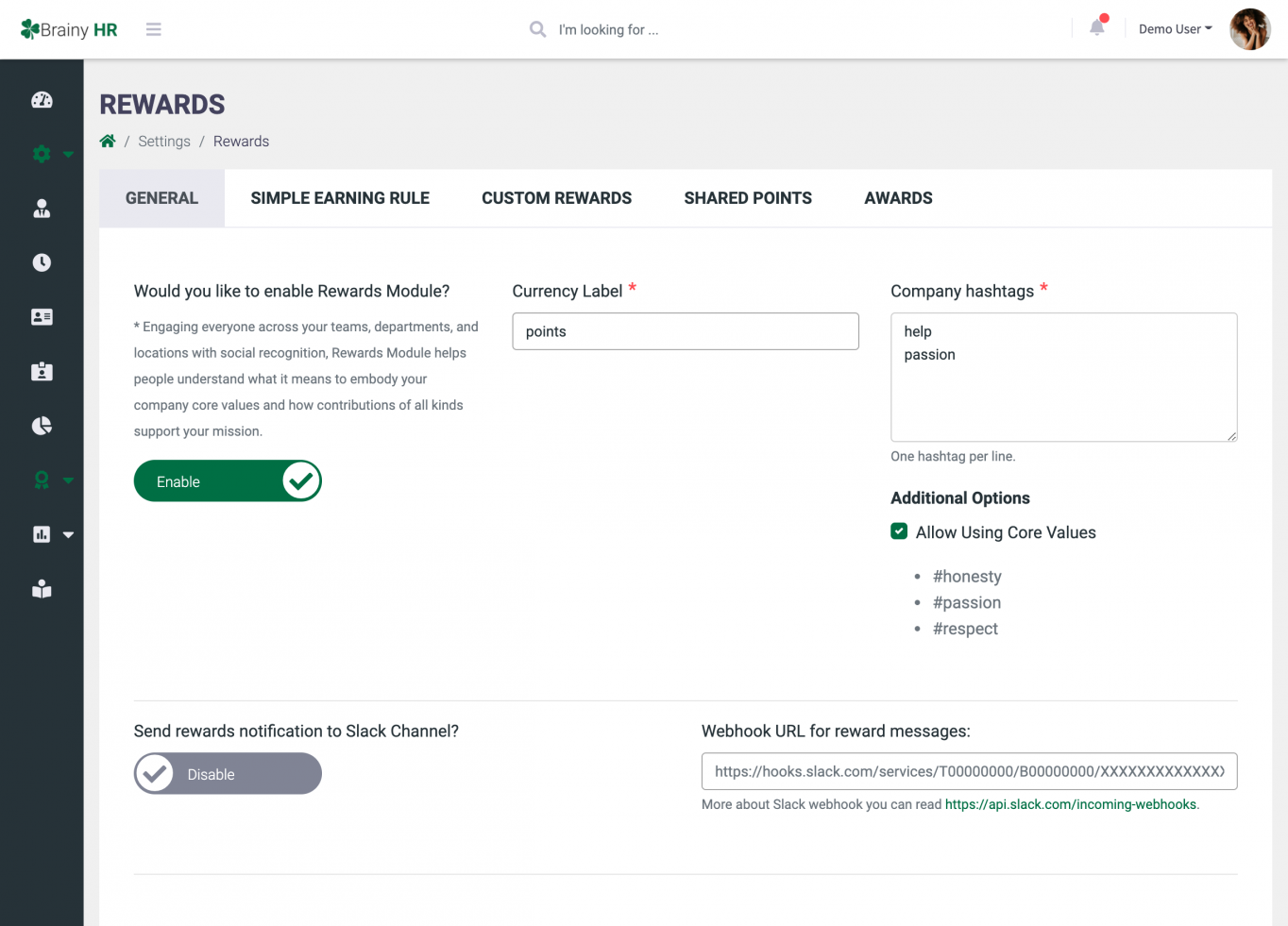 Would you like to enable Rewards Module? - enable/disable.
Currency Label - you can use any points label for your company or use default one.
Company hashtags - add a reason for shareble points. One hashtag per line.
If Performance review module is enabled, you can also use core values.
Send rewards notification to Slack Channel?
You can enable slack notification to make sure your team is aware of coleagues rewards.
Custom rewards/Awards: Default Reviewer
Specify responsible person to review rewards and awards requests.
SIMPLE EARNING RULE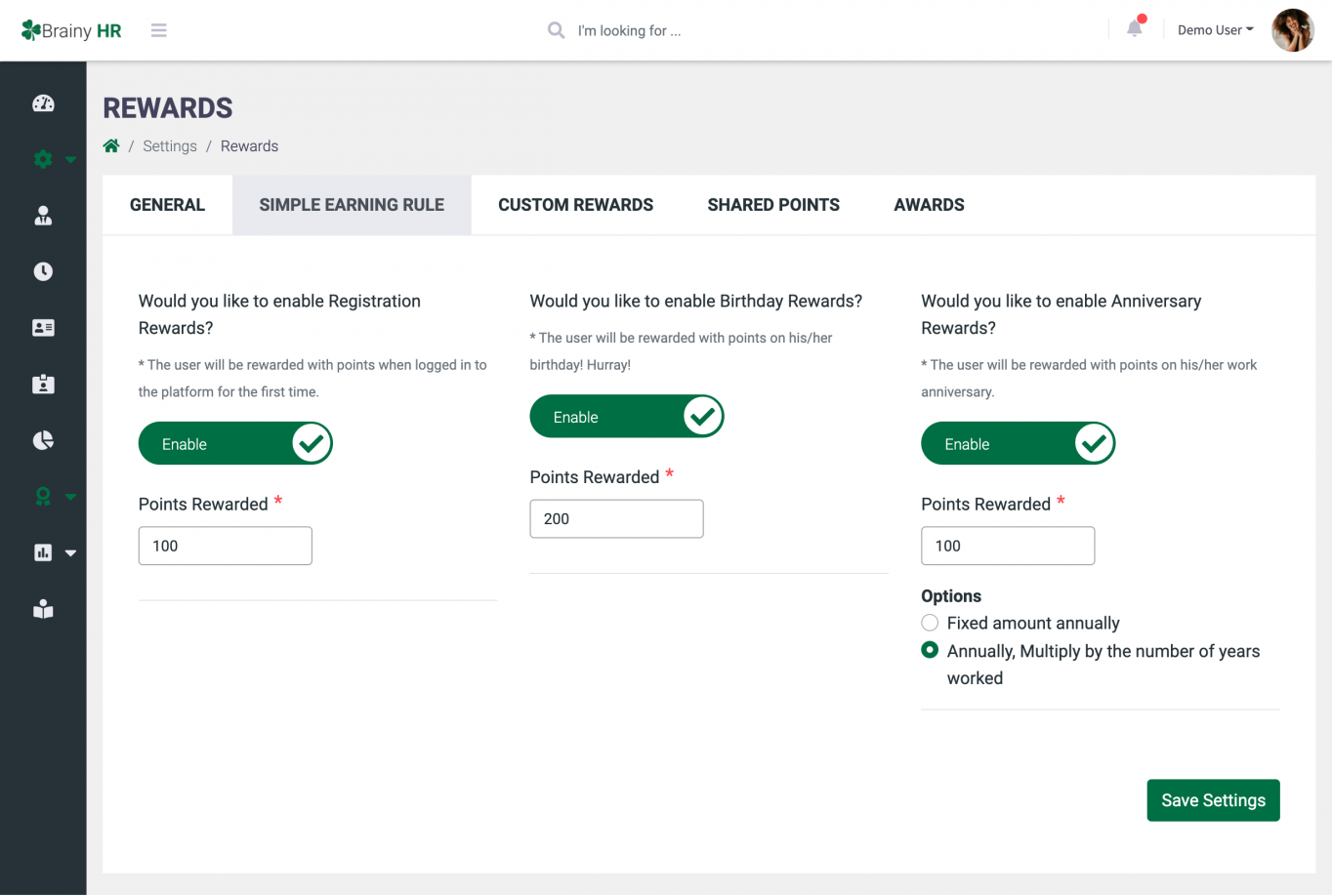 Here you can specify how many points will be added to the employee's balances for:
Birthday - The user will be rewarded with points on his/her birthday!
Work Anniversary - we have 2 options: fixed annually or multiply by the numbers of youers worked. If you set 100 points and choose fixed annually, employees will receive 100 points each year no matter how many years they stay with your company. If you choose multiply option, users will receive 100xYears they work in your company.
Registration - The user will be rewarded with points when logged in to the platform for the first time.
CUSTOM REWARDS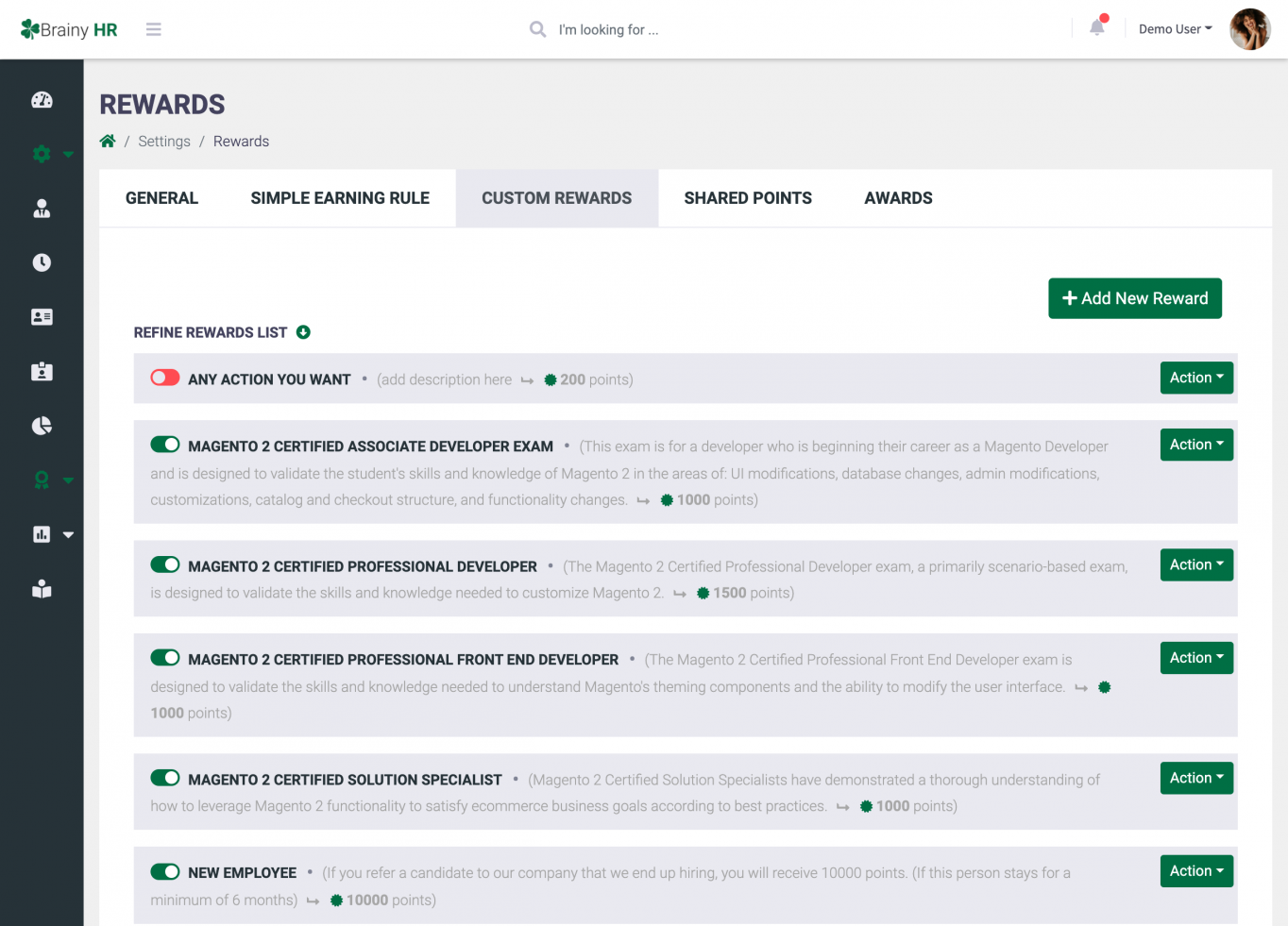 You can create various rules for your employee based on your company mission and vision. Motivate them to do what you and your company need.
This will help to make company policy transparent and give hope to each employee to achieve goals.
SHARED POINTS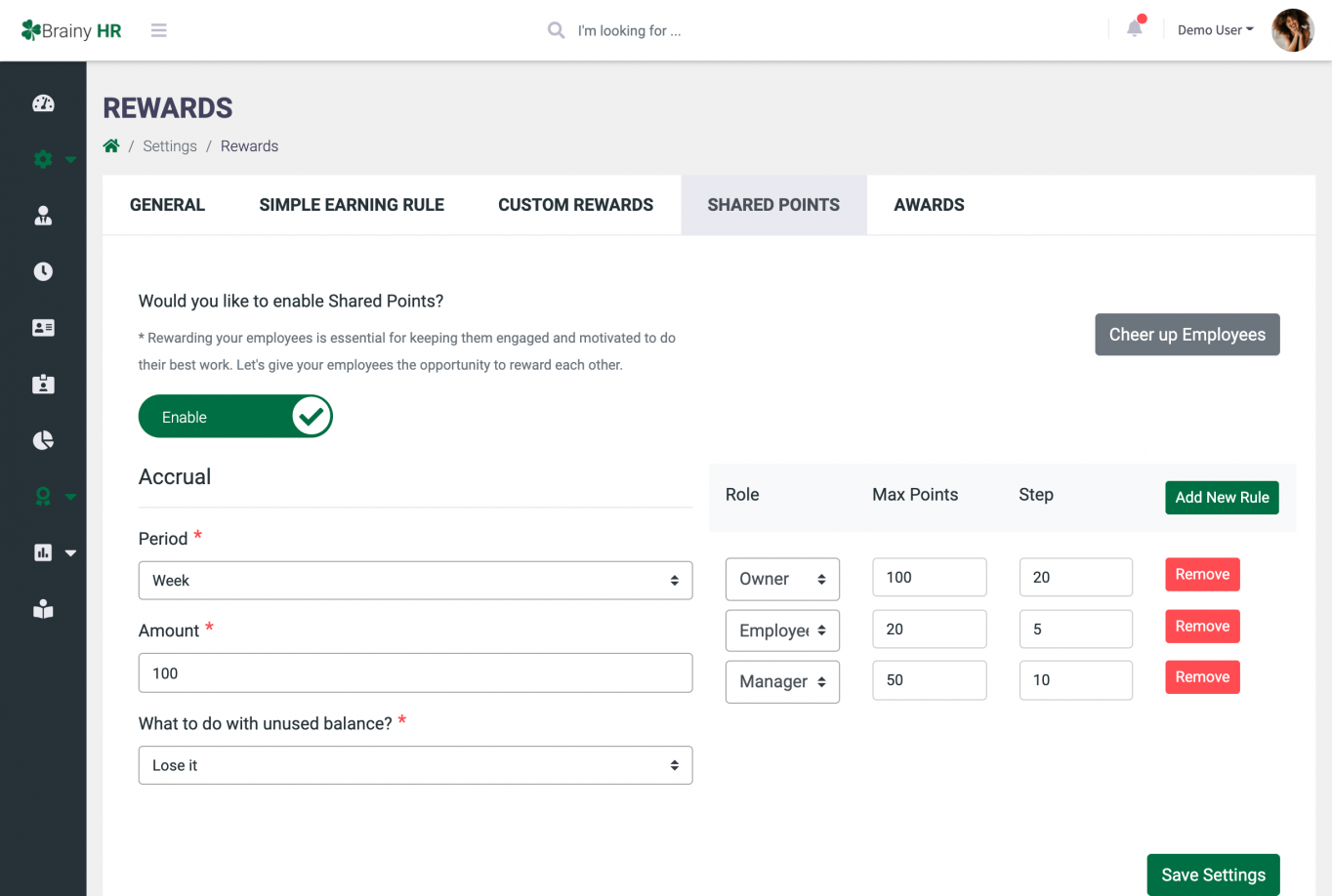 Involve your employees to the rewards program. They know who and when needs to be rewarded.
Period - Week/month/year. *Balances will be updated at the first day of the period.
If you need to assign points right now, use "Cheer up employees" logic - it will increase employees balances immediately.
Amount - choose any amount based on your vision.
What to do with unused balance? - Lose/move to the next period.
Here you can set a different steps and maximum points to share.
Based on screenshot above, employee can give 5/10/20 points to colleagues.
AWARDS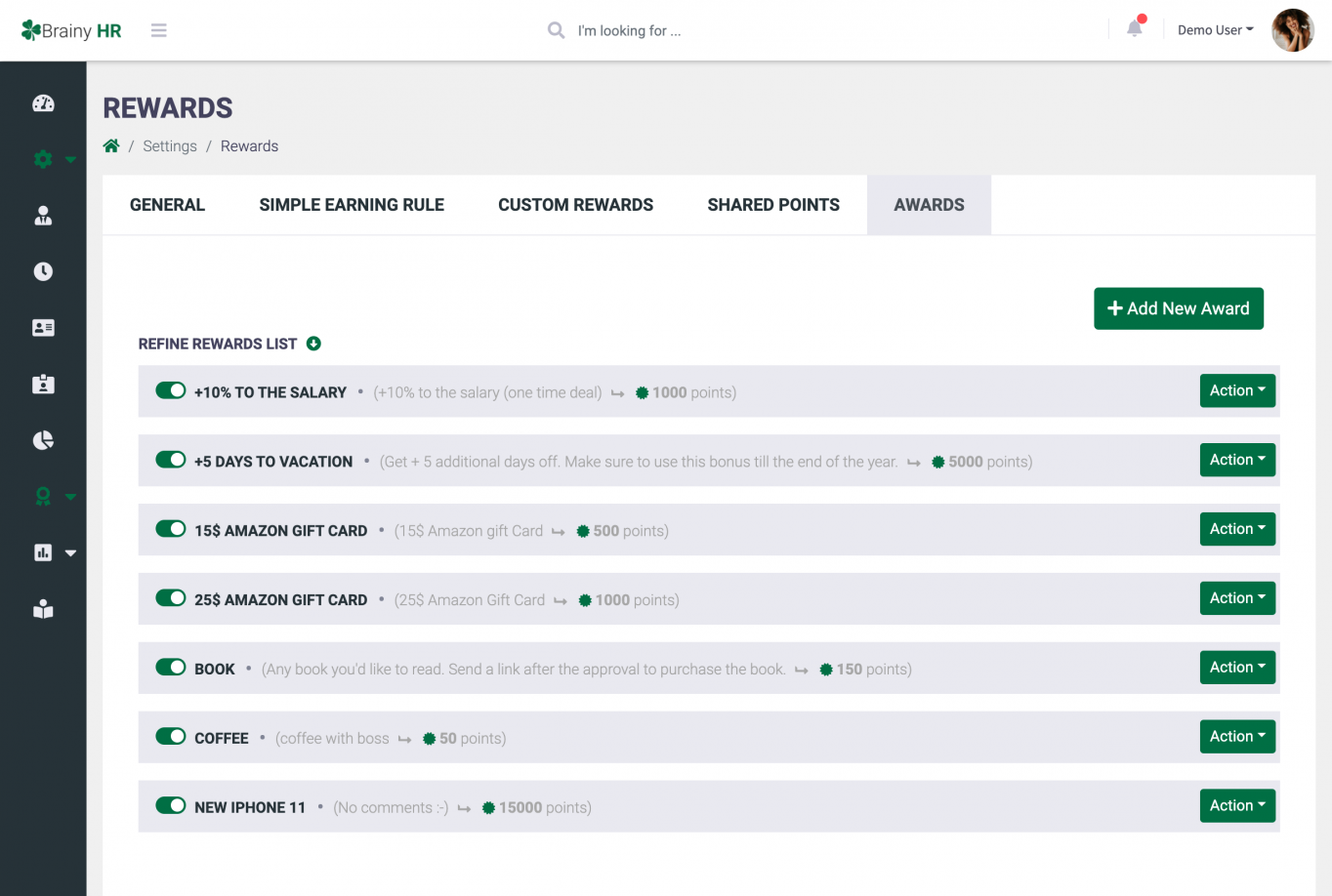 Create different types of awards. Make them personal. Allow your employee to choose gifts based on their preferences. It can be a book, course, money, gift card, additional time off. More ideas can be found here.
Let's see how it looks for employees?
New Rewards section has been added to the main menu once Rewards Module is enabled.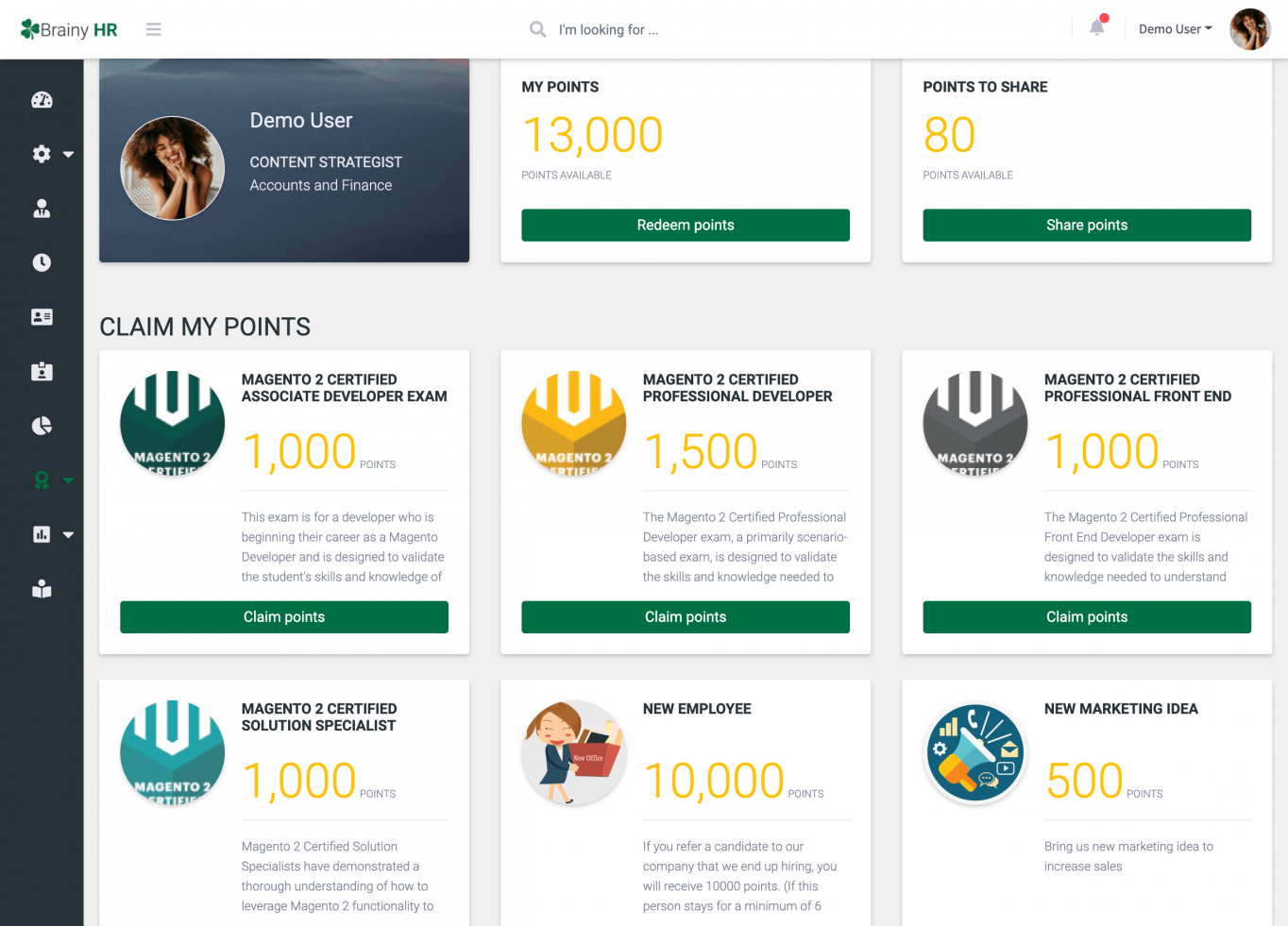 My points - employees can see their actual balances and spend these points for various gifts or bonuses.
Points to share - these points can't be redeemed. The purpose of the shareable points is to give possibility to apprise colleagues for the good work.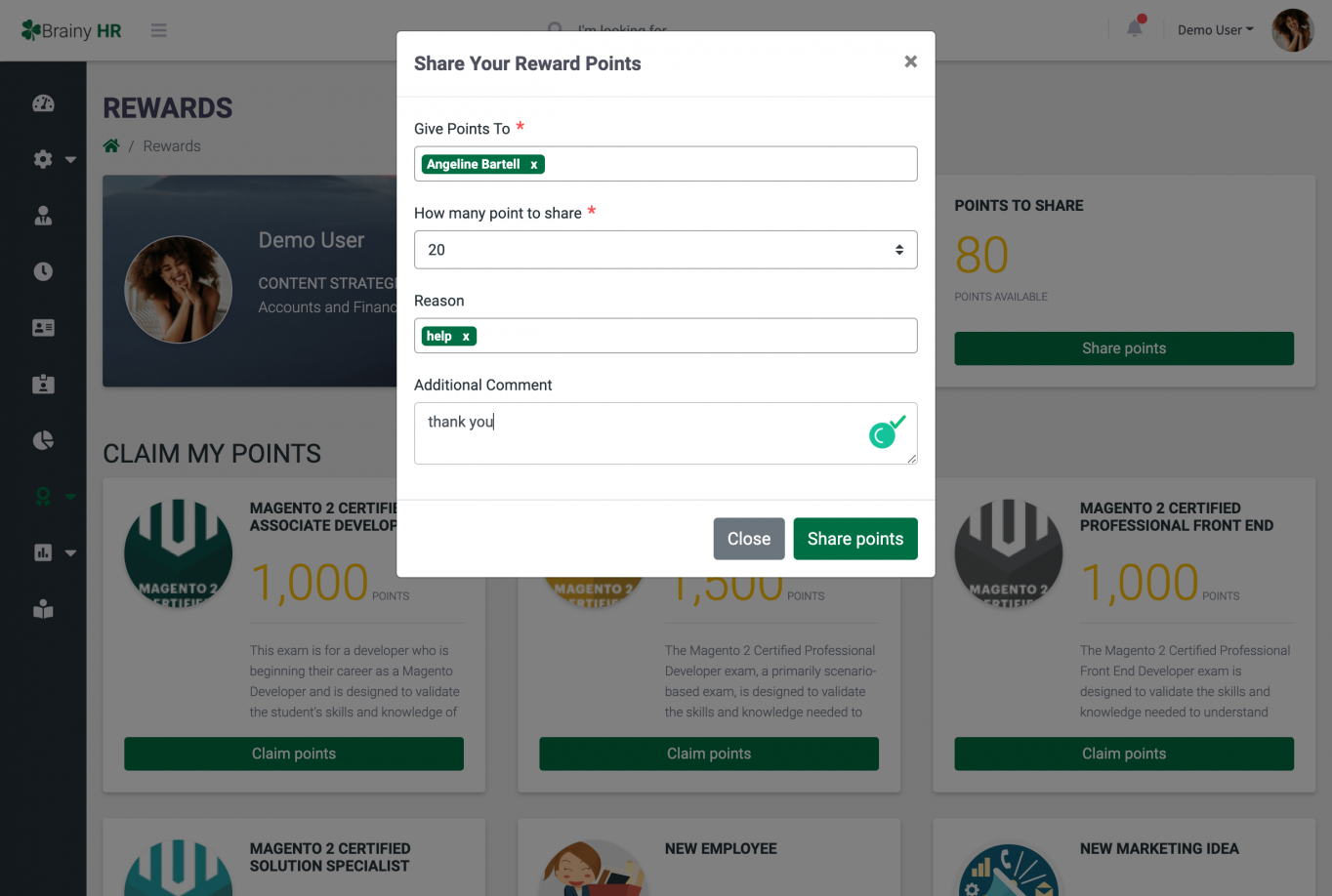 How to increase your points balance? Claim points for different actions, achievements etc.
Responsible manager (HR, CEO) has an access to all requests and can reject or approve them. During creating a request the employee can add a visual proof. It will increase chance for the approval.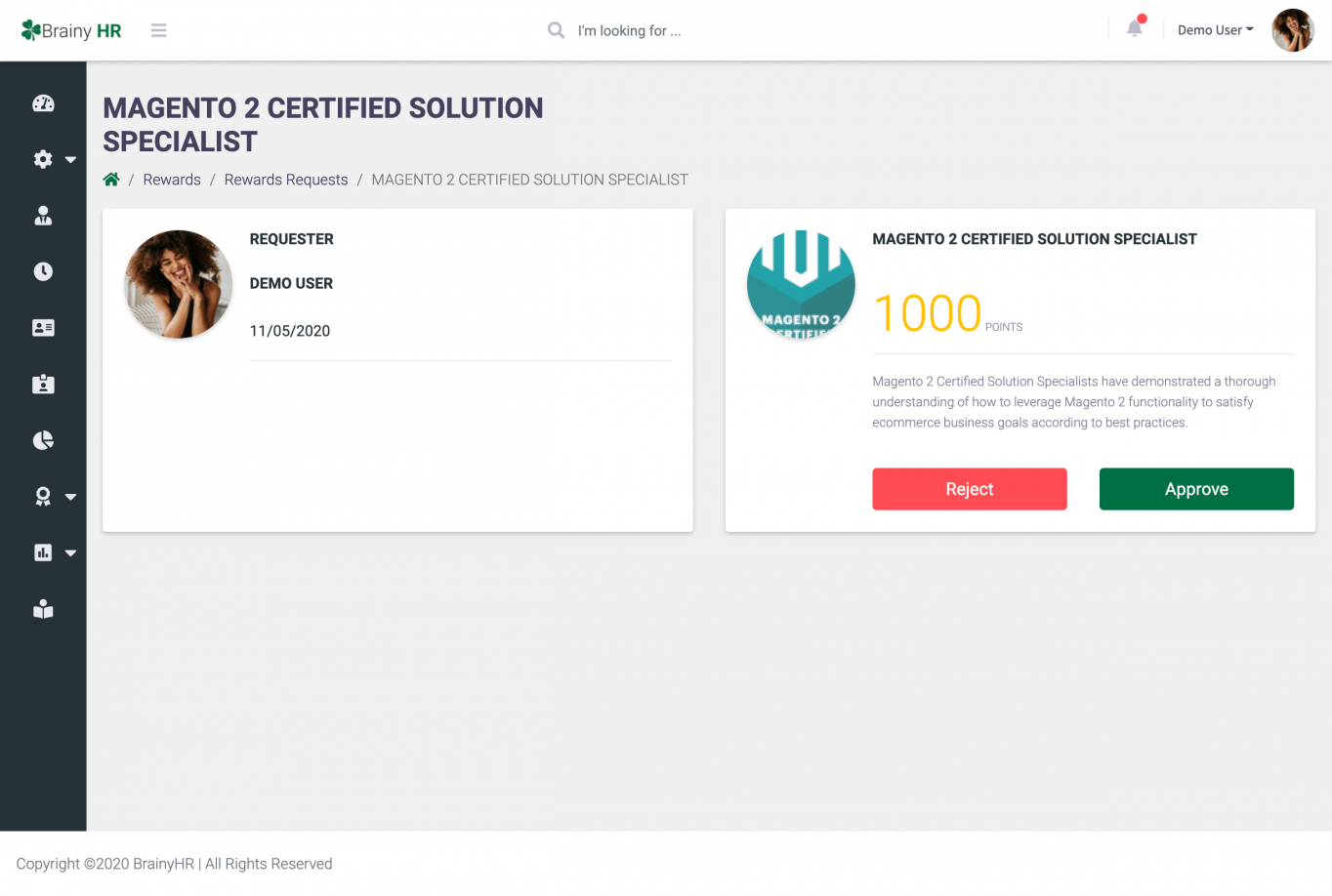 What to do with your bonuses? Go to AWARDs page.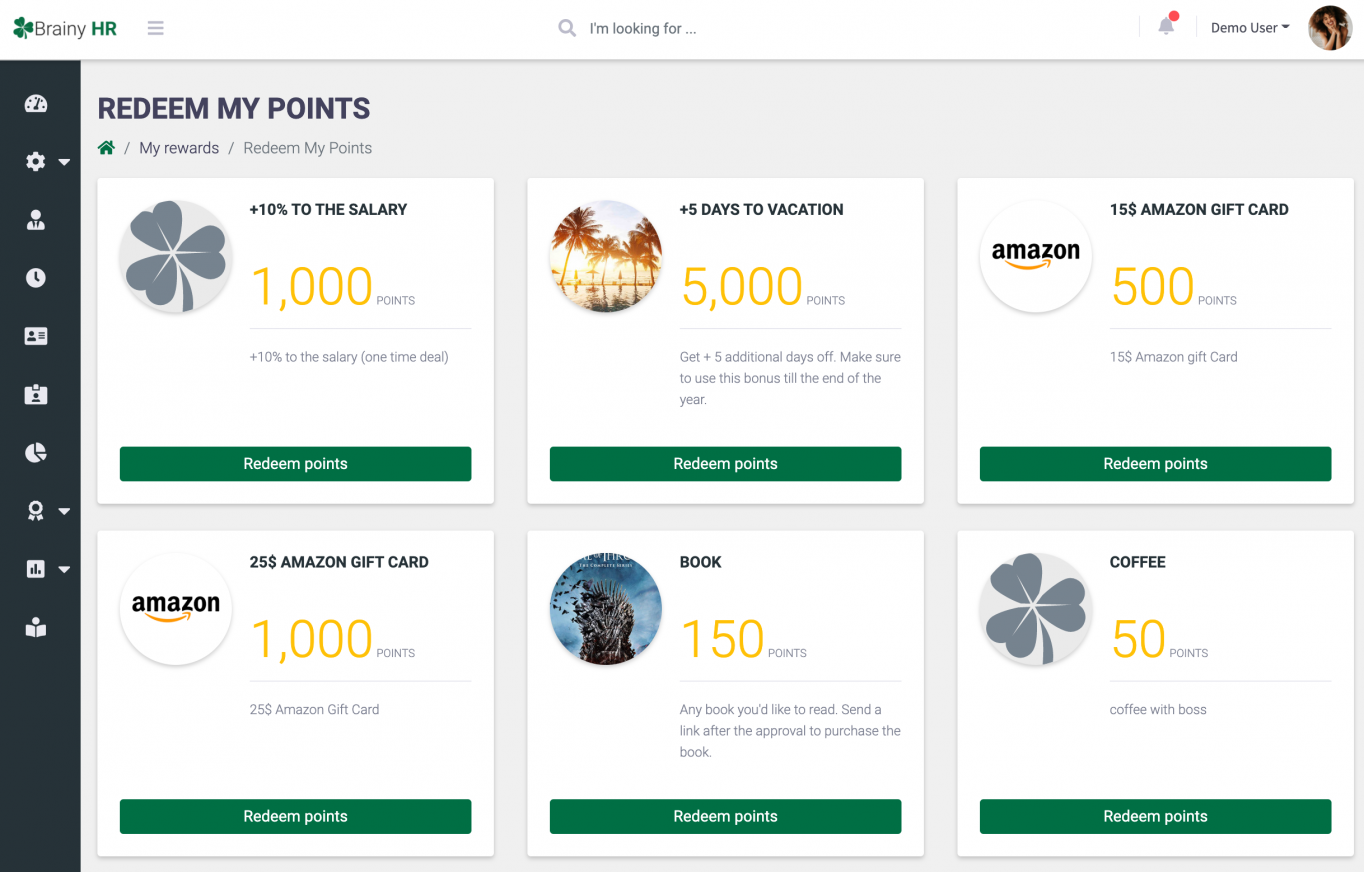 Choose a gift/bonus that is suitable for you. Send a request for the award.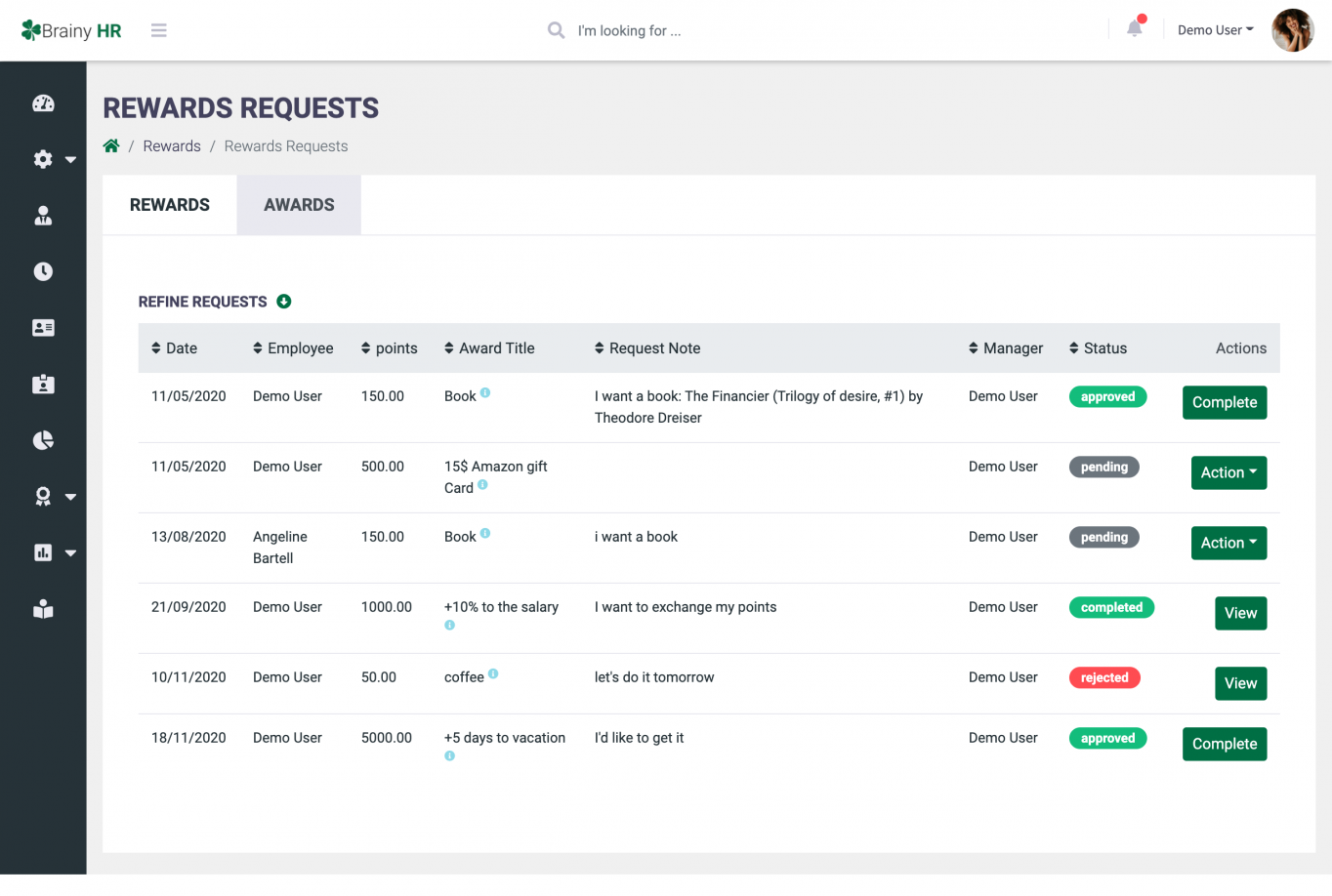 Manager can approve or reject a request. But sometimes it is require some time/actions to complete the approved request. Once it is finished, status can be changed to completed.
Still have questions? Contact us today.
Want to try the all-in-one smart human resources management system BrainyHR?
Start your 30 days trial. No credit card required.No obligation. No risk.