This is a must-read business book, "The Nine Faces of HR" looks at how organizations - via their HR leaders and teams - balance innovation versus structure, speed to market versus process, and employee development versus the financial realities that the CFO places on everyone. Simply put, welcome to the world of work.
Kris's book is a welcome departure from the standard issue "how to" guides and the legions of pages devoted to "leadership". The Nine Face of HR is something that you can relate to because we all know the nine personas that Kris describes in the book.
Absolutely No One Grows Up Dreaming of a Career in HR
Managing people is fun and challenging; here you need to be honest with the company and with yourself. I would like to share my experience with my colleagues.
You need to grow professionally, regardless of which company you work for - in a famous company or in a startup. Of course, a large corporation provides much more opportunities for development - but only if its management is really interested in your career.
Falling into HR Is the Norm, Not the Exception
- Here's a non-comprehensive list of other things people fall into:
- Love
- Addiction
- A bad relationship
- Lucky circumstances in life
- Debt
- Religious cults
- A habit of eating a pint of mint chocolate chip ice cream at 9 pm nightly.
This list tells you that getting started in different things can be both a blessing and a curse - it all depends on the outcome. Based on experience with the talented, high-performing employees that make up the HR world, here are some common ways people without the right plan get into HR for the jobs that so many people love and hate:
Starting from the bottom, now I'm here - these people took entry level roles in the company, usually doing transactions as an HR coordinator, payroll specialist, or similar role.
People person, good with the damn people - these HR pros were generally present in a company and got identified as someone who was "good with people," and subsequently flipped into the HR function from another department.
Corporate paratrooper or a High Potential Employee (HIPO) - got dropped into the function on an interim basis and never left. Big companies have rotational programs for HIPOs as part of succession strategies, and HR is generally part of that rotation. In some cases, HIPOs are rotated into HR and end up loving it and being highly effective. They either never leave or come back to HR after their rotations are complete.
A friend or mentor who had an opening looked at you and said, "WTF?" - from time to time, the path into HR is based on friendship, with a high performing HR leader developing mentoring relationships with young professionals outside the organization and bringing them in when they have the opportunity.
Good at a specialty related to HR and ended up run- ning the whole HR show - feeder groups for HR include some specialties that are considered a distant or related cousin to the HR function—like training or recruiting. This close proximity to the HR function provides a natural exposure and transition point to HR for the professionals in those functions with the chops to handle the chaos that awaits them in the big show.
My Life with the Crazy People Who Hate HR
They hate us cause they ain't us.
— Attributed to countless people with irrational confidence
Usually employees hates HR because they view them as one of several things based on their viewpoint:
- A no-talent hack;
- A blocker impeding them from doing whatever they want to do;
- Someone who doesn't know as much about people-related issues as they do;
- The source of more work for them and six new passwords they must remember based on your commitment to "best in breed" HR technology solutions.
Many employees do not even think that the main tasks of HR is not to assess the level of technical competence of a specialist, but to assess the level of his motivation, compliance not only with the vacancy, but also with the corporate culture of the company, which also includes tolerance, politeness, correctness, and the ability to behave at a meeting with a stranger. the person representing the company.
A negative attitude not only towards the HR department, but also towards everything new, which is not so, "not in my opinion", is most often characteristic of people who are inflexible, short-sighted, with an average or below average level of social intelligence. It is unlikely that such applicants will be able to become successful employees, flexibly and painlessly integrate into the new environment.
It so happens that the applicant had a personal negative experience associated with the unprofessional behavior of the HR manager, on the basis of which he draws conclusions about the phenomenon as a whole. But this, in turn, is an indicator of the lack of the required degree of critical thinking, flexibility, etc.
HR Stereotypes and the Evolution of HR Saying "Yes"
If you're lucky enough to be different, don't ever change.— Taylor Swift
How do you say yes more as an HR leader or a line HR Manager? It's simple:
- Listen to someone's problems. As Jay-Z and ASAP Rocky have explained to us, the business leaders around you have many, many problems.
- When they ask you for permission to do something that feels icky and risky, resist the urge to say "no."
- After fighting off the surge of blood to your throat to avoid saying "no," say "yes."
- After saying "yes," quickly follow the affirmative with a list of things you need them to do to make the "yes" a reality.
HR's Big Innovation Problem
Without a deadline, baby, I wouldn't do nothing.
— Duke Ellington
Stereotypes are alive and well regarding the HR function. We talked earlier about the preconceived notions held by people who hate HR—notions that they rely on us to perpetrate. Let's run down some more of the basic ones as a warm up here:
- HR is great at the employee handbook.
- HR is the department responsible for the company picnicand party.
- HR has secrets about almost everyone in the company.
- HR is good at something they refer to as the "SHRM Bodyof Knowledge."
- Jan from HR clears out the breakroom daily with the s*** she warms up in the microwave.
- If HR schedules a meeting with you, you're getting fired.
- You don't go to HR if you want to hear "yes." Better to begfor forgiveness.
Are those things true or not? Probably depends on your company. The bigger issue beyond stereotypes is that HR doesn't lead change in most companies. HR is often late to the game when it comes to innovation and driving change. We should talk about that because it's killing us—and you.
How the 9 Face of HR Model Works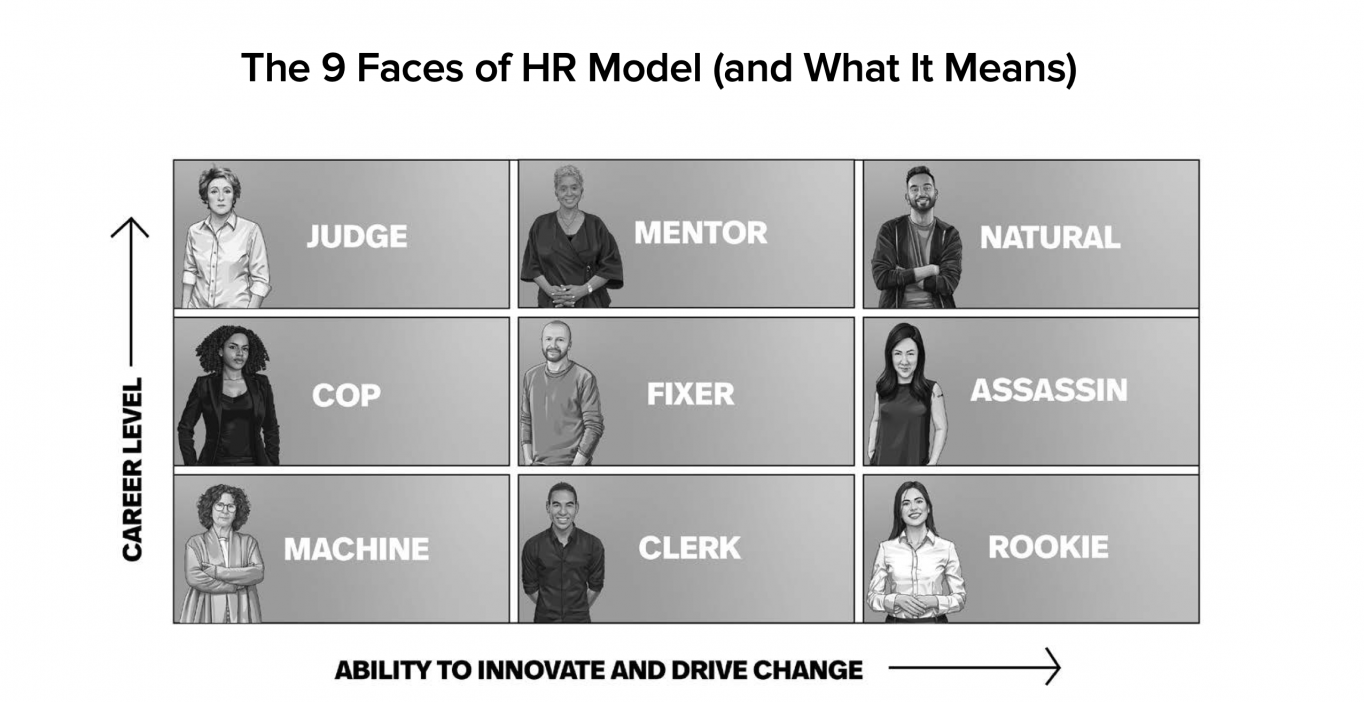 The Four Factors that Drive the Ability to Innovate, Add Value, and Drive Change in HR
Four factors emerged to measure directionally an HR Pro's ability and willingness to innovate, drive change, and add incremental value, including the following:
1. Cognitive Ability/Processing Speed
2. Assertiveness
3. Rules Orientation
4. Detail Orientation
Cognitive Skills
The speed of the boss is the speed of the team.
— Lee Iacocca
How do you measure the effectiveness of an HR leader? I'll define HR leaders fairly broadly to keep everyone engaged. Let's say that an HR leader is someone who not only leads the HR function for an entire company but is generally responsible over a client group of employees. If you support a line of business or a function and have a flock of employees to hire, train, and fire, you're an HR leader.
Talking about the effectiveness and performance of HR is a black hole. You've got the transactional side, performance, talent acquisition, etc. All subareas of HR have metrics, and HR leaders have been told that measurement is the key to the HR function being viewed as strategic.
Give Me What I Want or I'll Ruin Your Career
Here's what I've got that's critical for your HR func- tion, with some notes on how recruiting low rules HR people might need to be part of your plan:
1. Ability to Negotiate. This covers a lot of ground, but an HR pro's ability to read the situation, see what's possible, and negotiate for the company, HR as a unit, and for themselves is crucial to the outcomes you'll get.
2. Innovation. Innovation is a strong word and a buzzword most of the time, so let's dumb it down. What innovation means from an HR pro is whether they can create a work prod- uct that wows the people they serve and have it packaged in a way where the marketing of the idea takes care of itself.
3. Say "Yes" more than they say "No." This will give many a cause for pause, but let's face it: the HR pros who the rest of the business world don't respect are the ones who say "no" all the time. The HR pros with the right stuff listen and find ways to say "yes" with conditions (work needed from the requestor to make the "yes" a reality). HR pros at all levels who aren't viewed as players say "no" more than they say "yes." This is tied to rules orientation.
Kris thinks these three HR competencies are tied to rules orientation to some extent. The HR pros who can do these three things are worth their weight in gold.