Why is it necessary to delegate HR tasks when your company is still small?
Different research also suggests that HRM problems are among the most common causes of concern for SME owner-managers.
For a small business, HR departments are a big problem. We'll also share with you information on how to properly delegate HR work to a specialist and benefit from free time and opportunities for growth.
An effective HR department is necessary for any business, regardless of size. The only thing is that the HR department of a small company and its support possibilities are very different from that of a big corporation, especially in terms of financial support. A lot of small businesses handle hiring and employee management without a dedicated HR department.
You don't have to wait until you're a big company to hire HR specialists. Because if you don't delegate, you will also be limited in time, and Investing in your own efficiency won't help you grow your business or fulfill your own strategic goals.
HR sets the tone for internal communications and impacts your company's culture. You're most valuable when it comes to your employees. HR policies and procedures should care for their well-being.
In any case, human resource is an integral part of any business that deserves its own department. Without it, you risk non-compliance fines, low employee morale, and poor employee development.
The 5 main priorities for HR departments in small companies (up to 49 employees).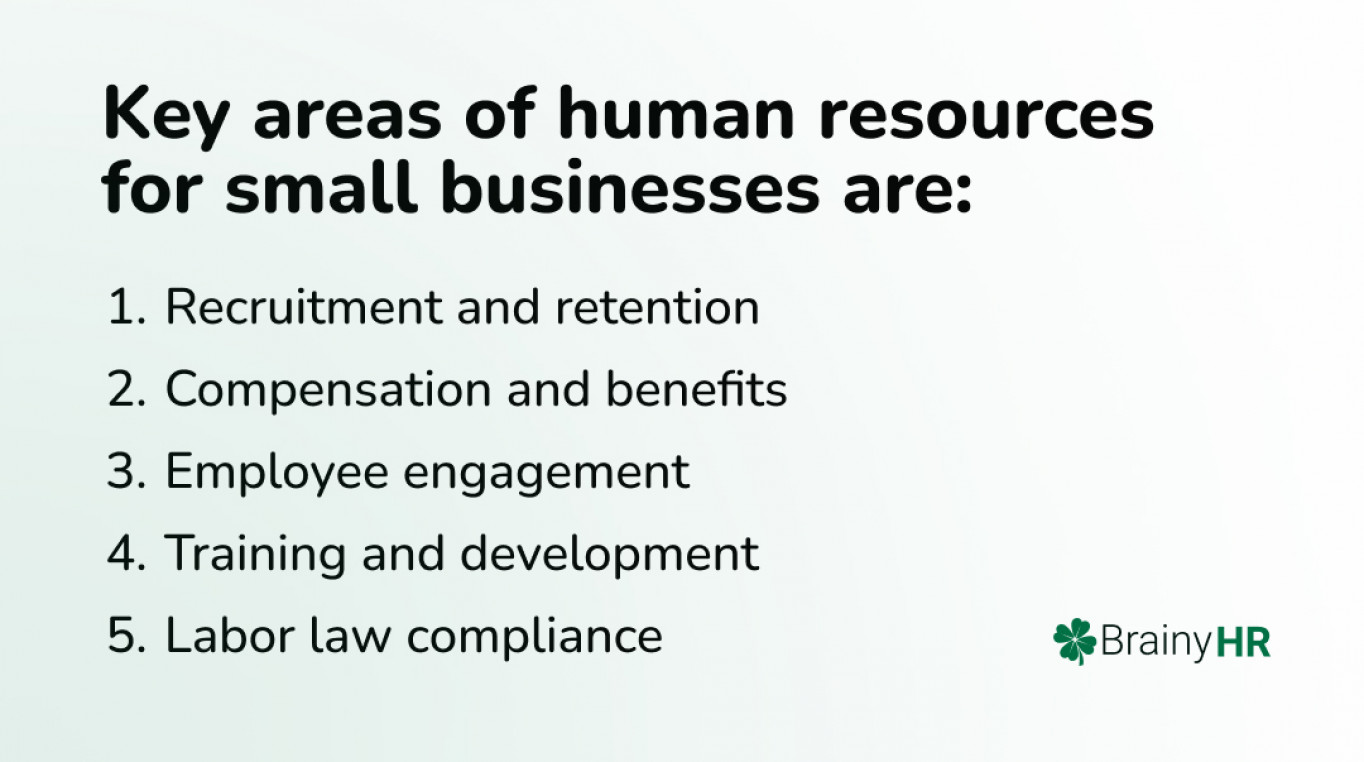 ​So when should you delegate HR functions, you ask?
There's no template solution for every business. The right time to hire HR specialists or build an internal HR team depends on your small business's development and, of course, mostly on your budget.
Generally, HR professionals say you should consider delegating HR functions when you have more than 10 employees. At this point, combining the functions of the business manager and HR manager can become too difficult, increasing risks. make mistakes and become inefficient.
How to Implement HR processes for Small Businesses
If after reading the information above you're convinced to need human resources specialists, let's move on.
We will talk about the 6 main steps of creating an effective HR department in a small business:
Here you can also read our additional article on what HR challenges small business owners may face in 2023 and how to solve them.
The main steps of organizing the HR department in a small business:

#1: Creating human resources processes
Well-defined HR processes help attract, find, recruit, train, and retain top talent. With them, your HR department will create a structure that will benefit your business. You'll make better decisions, be more consistent with the organization's strategy and achieve business goals this way.
#2. Creating a structure
Whether your HR department is a one-man team or a growing company with 20 HR professionals, you need structure. Start by assigning roles and responsibilities, ensuring staff compliance, and implementing HR practices and processes. Typical roles in your workforce include:
Human Resources Director
HR director
Recruitment manager
Recruiting Specialist
Personnel coordinator.
# 3. Fill the skills gap
Conduct a skills audit once you have your framework in place to make sure you have the experience and skills you need. Invest in hiring HR professionals or upskilling existing ones. That's part of your long-term and short-term HR strategy.
#4. Set KPIs for Your HR Department
Establishing key performance indicators (KPIs) is a good way to measure the effectiveness of your HR processes. There is a range of different things that you'll likely want to track in your organization, including:
The amount of time it takes to hire people
Employee retention and employee satisfaction
Employee absenteeism
Employee performance, and productivity
#5. Cooperation with other departments
HR plays an important role in all business areas, from sourcing and hiring the best talent to onboard, performance management, and training.
When creating a department, you need to get input from other managers to make sure your processes are beneficial and don't add unnecessary administrative burdens.
#6. Choose a digital HR solution
It's impossible to manage your HR department with spreadsheets on paper, and it's even harder to keep up with ever-changing regulatory requirements.
You need HR software that automates time-consuming tasks and lets you focus on more strategic things.
Choose an automated solution that's right for your small business. In this case, you'll pay a lot less than big companies. Also, you'll only pay for what you need, not the extra points you don't need.
Brainy HR is designed for the needs of small and medium-sized businesses. Check out the 7-day free version and schedule an online presentation with our expert to learn more.
Additional useful knowledge for you
Despite limited resources, more responsibilities, and simpler hiring practices, small businesses offer more flexibility and a more diverse work environment. Large organizations tend to have more structured work environments, a targeted workload, and less room for creativity.
Take advantage of your small business and grow it. Also here's a website where you'll find information about building not only human resources processes for small companies. You can find useful information about marketing, sales, and other business processes there.
Small Business Association (SBA)
Guide to hiring and managing employees
Summary



Established HR processes and structure are essential for any business, regardless of size. To achieve future success and growth, you must learn how to delegate HR tasks and deal with key business strategic issues.
HR is a big and complex job. Thanks to digital solutions, HR work can be simplified a lot.
The Brainy HR Software team is also here to help you. Register and get access to a 7-day trial of our solution for small and medium businesses.
It is important to remember that by implementing good HR practices, you will increase your business's chances of success and create an environment in which your employees can enjoy working.
​
​