Of the many spheres of human activity, it was HR that automation was the longest approaching. Do you know why? Because the subject is involved - a person. But progress is relentless. Thanks to the madness of the brave, a lot of IT solutions have appeared in HR, and it is in them that we will understand today.
In any business, the team is the most important capital of the company. Effective teamwork is vital to business success, and employee motivation is a critical component of practical work.
Personnel management software can also help companies design and automate regular processes and procedures in human resources (e.g., recruiting) more efficiently.
Human resource management software features include all administrative activities and tasks that affect the workforce. These range from recruiting to offboarding. Behind this are countless processes that are increasingly difficult to manage on paper. Today's time is simply far too fast-paced for that. Personnel management and software therefore belong together with features of hr management software.
Why is Excel no longer suitable as personnel management software? Until a few years ago, the spreadsheet program Excel was the tool of choice for digitally controlling personnel management. Today it falls short. There are several reasons for that.
One of the most common reasons for the increasing departure from Excel is likely to be problems with data protection compliance. Personnel management software does the deletion automatically - in compliance with data protection regulations.
Privacy issues. Another problem concerns the insight into personal data. Often an employee's data records are maintained in a single document. Suppose a line manager is given access to it, for example, to store his comments on a feedback discussion.
What's the Difference Between HRIS and HRMS?
The main thing you need to know about the types of HR solutions is that the acronym is not as crucial as each specific solution's functions and capabilities. On the other hand, a few general principles will help you differentiate between solution classes.
HRMS or human resource management system
An HRMS, or people management system, is software that combines the necessary core HR functions into one integrated suite so that users can perform tasks, analyze data trends, and generate reports.
Focuses on all of a worker's HR processes and activities, from hiring to retirement. The term refers to applications and other technologies that support and automate HR processes throughout an employee's lifecycle. Solutions that can be comprehensively used by management boards, HR teams, and employees to guarantee Optimal functioning of human Management processes.
HRIS or human resource information system
An HRIS or personnel information system is a human resource management system that allows users to manage, track and automate the central HR requirements electronically. These platforms usually have an employee database, with functions based on individual employees, departments, or the entire company.
HRIS are systems for human resource management in the company. The functionality of comprehensive tools of this type most often includes:
Employee wages;

Work time and attendance;

Employee evaluation;

Management of bonuses/extras;

Recruitment and training of employees;

Work quality monitoring;

Employee portal;

Work schedule;
Exit process management;

Reports and analyzes.
Of course, there are also specialized tools available on the market in terms of selected functionality (e.g., employee payroll). However, the leading role play by integrated modular solutions (where all modules use one database, and each of them is responsible for the selected functionality).

Differences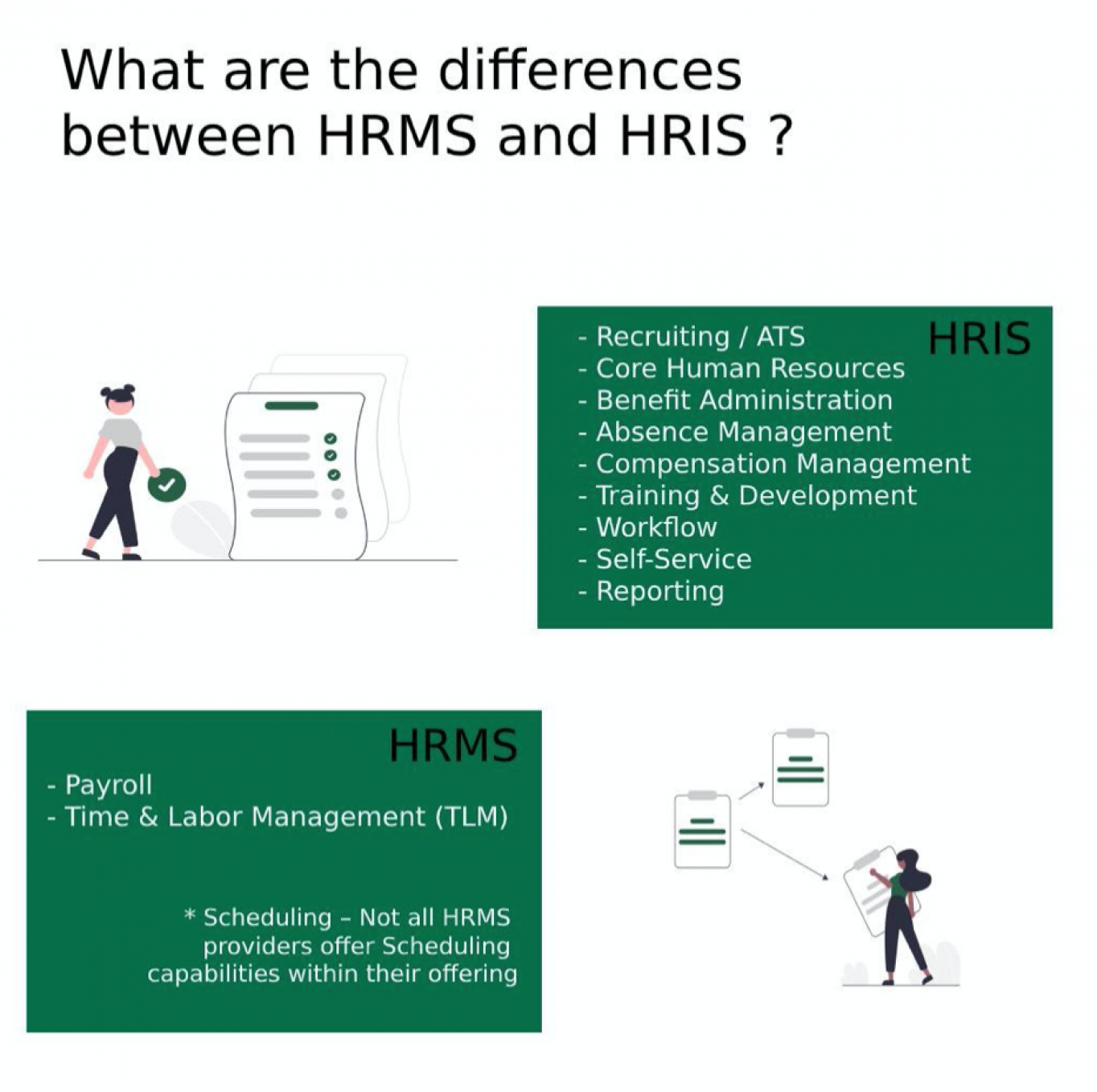 HRIS is an older acronym now often used to mean HRMS. Typically, HRMS centralizes the organizational structure of an HR department and HR processes, providing a single solution for managing people, procedures, and policies.
General features of HRIS and HRMS:
Salary

Registration of attendance and working hours

Drawing up work schedules

Vacation and time off programs

Social package management and administration

Employee self-service portal

Recruiting (candidate tracking system)

Basic staff analytics
HRIS offers all the capabilities of HRMS features plus workforce planning and integration with customer relationship management (CRM) and enterprise resource planning (ERP) systems.
What to choose for your company HRMS or HRIS?
Different vendors have different meanings for the acronyms HRIS and HRMS; it's better to focus on the goals you want to achieve with the HR solution than on the name. When comparing options, look at the function of each solution and ask yourself the following questions:
Will this solution help me design and implement HR programs and measure their effectiveness?

Will this application meet our needs now, and is it scalable enough for the future?

Will this solution make it easier to interact with employees?

How much training will all users in my department need to use this program?

Does this solution integrate with our existing applications and tools?
Before implementing, do a little analysis:
Step 1. Focus not only on the type of system. Check what processes the system automates.
Step 2. Don't compare two systems just because both are called HRMS or HRIS. Write down the processes and reach the process by process.
Step 3. Check development plans and history. Ask how the system is developing, what other processes it will cover.
Step 4. Think and focus on real experience, real automated processes, real cases, and not just marketing and beautiful interface pictures.
The 6 Most Important Features of HRMS Software
HR software is there for the ability to take on and manage every function. HRMS software features combine personnel development and recruitment are also connected with it - but there is more to it. HR Since administering sizeable standard system providers for their expansion, even selective in-house developments are no longer limited.
Since there are no fixed standards for the packaging of work functions into modules, the following points are seen in general and as "best practice."
PERSONNEL BILLING
It covers all aspects of wage and salary accounting - from the preparatory accounting and the administration of vacation pay to social security reports and company pension scheme to tax notices and gross net bills. Also, the systems offer interfaces to controlling and the statutory certification system.
TIME MANAGEMENT AND TEAM CALENDAR
In addition to the simple "negative" time management, which only regulates absences and ensures transparency for colleagues in the team calendar, good time management, in particular, quickly brings incredible complexity. The essential features of the human resource management system here are dealing with:
- surcharges
- breaks
- flextime
- waiting periods as well as the simple planning of shift models.
STAFF PLANNING
HR management software for small businesses supports the planning of shift models in industry and retail. Depending on the range of functions, providers enable detailed planning, either along the employees' necessary competence profiles or the basic staffing levels, depending on the branches' sales planning.
PERSONNEL PORTAL
The personnel portal is the digital version of the bulletin board and can usually be adapted very individually to customer needs. The main features of HRMS software are standard functions: the display of to-dos, company updates, in-depth information on processes, instructions, etc.
WORKFLOW MANAGEMENT ON REQUESTS
This module can usually uses to map approval and instruction. The configuration of processes, e.g., B. for requesting an absence, changes in the master data, etc. can be made by the customer individually with the roles to be included and their necessary activities.
DIGITAL FILES
The digital file includes functions for employee-specific document storage—includes application documents, contract data, certifications, and instructions. Depending on the functionality level, providers provide audit-proof archiving with search functions, structuring options, and text recognition.
Brainy HR: All Human Resource Management Software Features in One Solution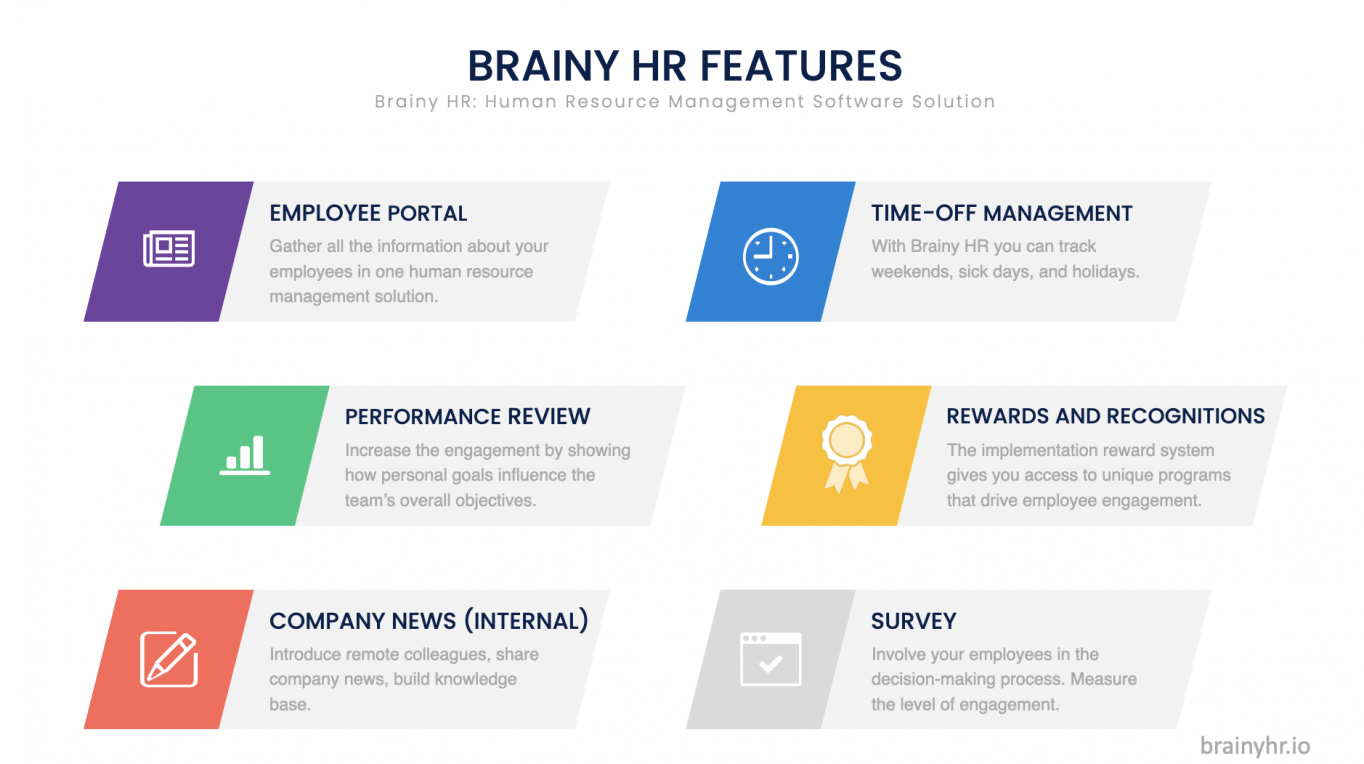 HR managers understand the value of human resources and know-how to work with them. Several tasks cannot automate, just for them. You need to concentrate on knowledge and experience. Simultaneously, almost every specialist in any field has several routine tasks that take time and effort.
When we talk about the HR department, this routine grows exponentially. The HR manager is responsible for both complex and voluminous tasks and a large number of small ways. HR should simultaneously keep track of the company's life (take into account vacations, sick leaves, schedule meetings, maintain a database of candidates), develop corporate culture, increase employee loyalty, and develop individual development plans.
It is physically impossible to combine two huge layers of tasks within one day. As the company grows and more employees, routine tasks overwhelm the HR manager like a tsunami. As a result, the company's head faces a choice: to expand the HR department endlessly or optimize its processes.
Implementing HRIS will allow you to stay competitive in the market and take care of the HR department and every employee within each team.
All employees are involved in the application process and have access to the central applicant database. It facilitates and shortens communication and response time. The individual steps of the respective predecessor applicants are displayed in detail and laid out.
Talent management software digitizes all processes that are relevant for targeted personnel management and development. Let's take a look at the functionality and capabilities of the system to decide what is best for your company:
People management
The personnel portal is the digital version of the board and can usually be adapted very individually to customer needs. Standard functions are the display of to-dos, company updates, in-depth information on processes, instructions, etc.
Companies that take new talent on board in a structured manner shorten the training period and increase satisfaction. The effect of solving the first problem is quite apparent. It consists of eliminating double data entry, bringing them into a single database with the possibility of full analysis. Reporting generation is simple "negative" time management, which only regulates absences and ensures transparency for colleagues in the team calendar; excellent time management, in particular, quickly brings extraordinary complexity. The primary functions here are handling of allowances, breaks, flextime, and waiting periods and the simple planning of shift models.
Time off management
The joyous time management, in particular, quickly brings incredible complexity. The essential functions here are handling of allowances, breaks, flextime, and waiting periods and the simple planning of shift models.
Rewards and recognition
These modules support training in a more administrative sense. Training offers, booking and approval processes, qualification matrix, and further training per person, the organization of events, and billing are maintained here. The creation and implementation of a reward system requires careful analysis of company policies and procedures. Deciding how to recognize and provide employee efforts requires a detailed analysis of the responsibilities and risks associated with a particular job.
The employee reward and recognition system is not just a positive action towards employees. If implemented effectively, it will prove to be a useful tool for encouraging employees to create and deliver business for the company.
Performance review
The main advantage of performance review is the opportunity that allows the employee to look at himself from the outside, and the chance to demonstrate abilities. The "review" makes it possible to find out to what extent the level of the employee's competence corresponds to the organization's goals, whether he can achieve the set results, whether he meets the employer's expectations. Besides, this method allows you to answer more complex and more in-depth questions.
Performance review consists of two stages:
The employee independently evaluates his achievements for a certain period in the form of a report (essay) on the work done or answers questions in a given way (the previous knowledge test, certification).
Personnel assessment is carried out by analyzing activities (a rating for each employee).
Conclusion
2020, a challenging year for everyone, sets the corresponding tasks for business. Solutions are needed to improve efficiency in the new environment. We hope that this material has helped explain the reasons for the digital HR revolution taking place now, the benefits it brings to any business, and the most popular tools for solving the problems facing the recruiting and HR department. We hope we helped you understand what an HRM system is and her main functions, and if you still have any questions, we will always be happy to answer them.
Against the background of active business growth, the lag in adaptation of the HRM system leads to business processes failures. Errors can pose an apparent and latent threat. Risks include untimely provision of staffing requirements, incorrectly executed or unregistered documents on employee dismissal. The main danger of latent mistakes is to surround them at the most inopportune moment.
The HR service function is to teach HR managers or line managers to use HRM tools by building up the personnel management processes: to monitor, analyze efficiency, plan and predict personnel needs based on the data available in the system. After the implementation of HRMS or HRIS, HR has the opportunity to solve higher-level tasks.