​
What is White Label Software?
White Label software is software that a company uses and brands as its software. White-label software is mostly sold as a service (SaaS) model. Essentially, the company using the software is "leasing" the software for a monthly or yearly subscription.
There are many examples of white labeling in the world of technology. These can be various software, applications, and other digital services. For example, cloud services lend themselves particularly well to resale or rebranding.
The great news is that you can now use Brainy HR as a software application with all the benefits of white labeling.
You can find out all the details of installing White Label Brainy HR Software here.
What are the differences between a white-labeled solution and a built-from-scratch solution?
The most important thing you need to understand right away is that there is no single perfect solution for everyone. Depending on the company's needs, they select the solutions that suit them best. In this case, white-labeled software will not be relevant for certain companies, despite all the advantages. But for many companies, this is the most profitable investment.
We'll get into the benefits of white labeling shortly, but it's clear that this digital solution doesn't need to be built from scratch, so there are significant monetary benefits. And also time-saving benefits. After all, it can take a company several years to develop a digital tool with a group of 3-6 engineers, not to mention the time spent on maintenance, support, and constant updates to keep up with technological progress. That`s why the main benefits of White-label software are that it allows you to save a lot of time and money investment.
However, the advantages of software development from scratch are also apparent. After all, in this case, you individually develop your solution, which is ideal for your business.
The table below shows the main differences between White Label software and software developed from scratch.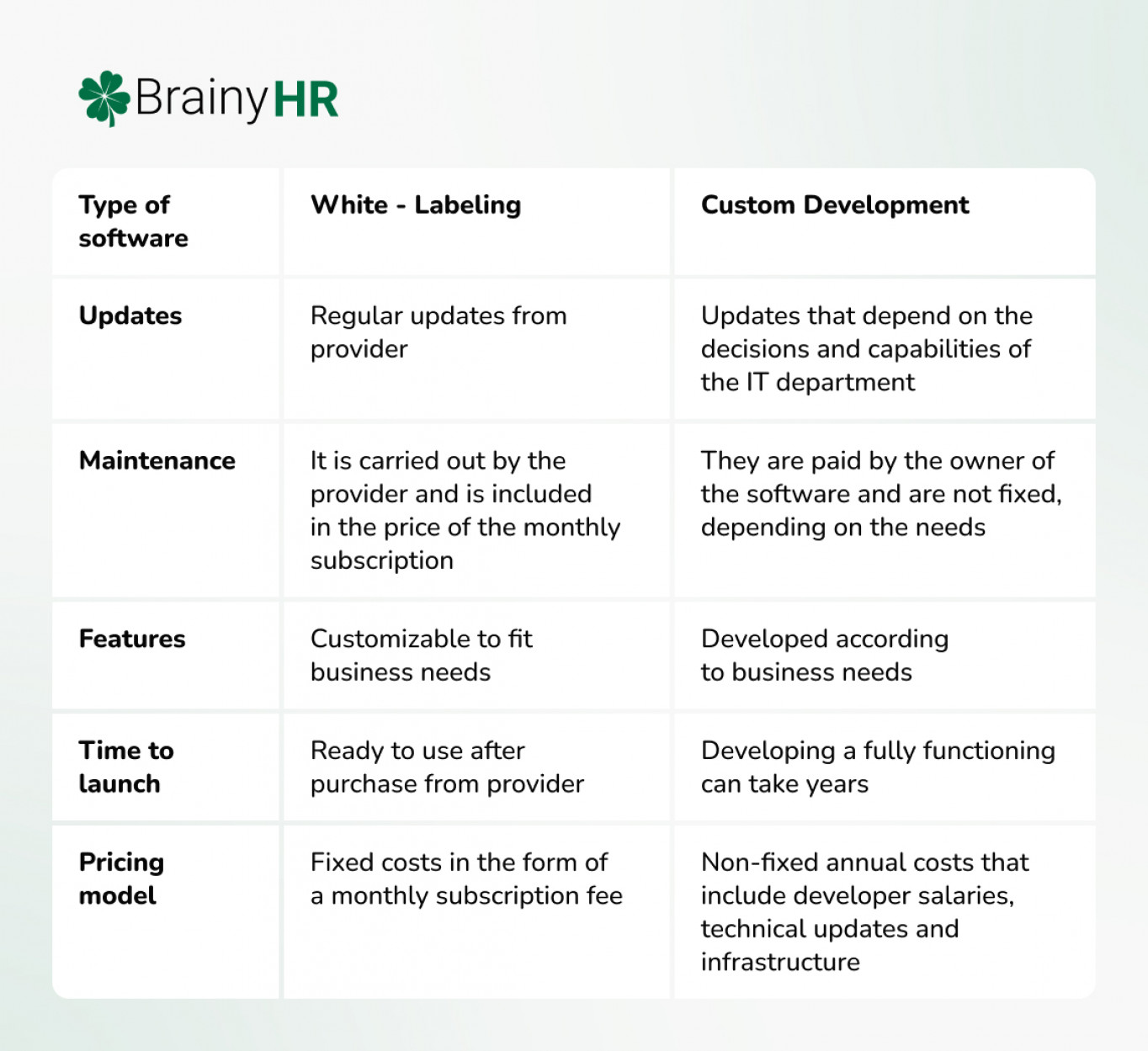 TOP - 5 Benefits of White Labeling Software



White-label software has many benefits for businesses. That`s why we will now tell each of them in more detail.
Time-saving and fast software start
Building software from scratch requires much time from the engineering team and management. That`s why companies that do not have the opportunity to wait and already need the software can purchase a ready-made product. This option will often be even more reliable and require much less money.
Now you can also use the white-label Brainy HR product. Go to the link and find out all the details.
Developing software from scratch is expensive. Takes a lot of time and resources.
Software development is expensive and takes a lot of time and resources. And once you've developed the software, you must thoroughly test it and check for bugs. White-label software can help you get rid of these expensive development projects. Instead, you get access to software that has already been built and tested.
If you are developing software from scratch, you may encounter many unexpected problems. For example, developers may not meet their professional obligations in time or something will not work as you would like. That is, you may have many risks that you will have to work with
In the case of White Label Software, you already buy a finished product, see all its features, and can be sure of its validity.
The opportunity to focus on the core competence of your business
In many cases, companies hope to develop solutions far beyond their scope of competence. It's unwise to waste your resources on something that doesn't match your core competencies. Be sure to take a close look at the solution you want and compare it to available resources to help you decide if a white-label solution will help you achieve your goals more effectively. Out-of-the-box solutions allow you to trust the experts in the specific space you're focused on and avoid making the same mistakes that others have made before you.
White Label programs allow detailed customization to better align the program with your client's brand image. But it comes in handy when a customer needs a product or service fully integrated with other systems, a website, social media platforms, etc.
Overall, white labeling is a great idea for businesses that cannot build their software from scratch but need a quality digital solution for their company.
Summary
White labeling software is gaining more and more popularity. And for good reason, because it is a digital solution that has many advantages. Of course, some companies have the desire and need exclusively to develop software from scratch. But if you understand that the functionality of the white label software will be enough for you, then you can familiarize yourself with our White Labeling Brainy HR Software.​
Technology is the future.