Every company, even the smallest, has to deal with the Time-Off requests. Managing Time-Off requests is not an easy task. Employees often write them incorrectly or even lose them before they go on vacation. They take up both the HR department's time, continually asking about the remaining leave, and their superiors, repeatedly catching them to accept the application.

Besides, if an organization continues to rely solely on conventional means such as e-mails, excel sheets, and printed forms to manage vacation requests, this can complicate matters even further and hamper practical work.
Efficiently manage holiday requests, a procedure established for all employees. The introduction of electronic leave requests makes this task much more comfortable. It also allows you to seamlessly handle all stages of the vacation management process - from application, approval and rejection, to management and analysis.
Winter, it's time to go for a well-deserved rest. Just the last few preparations, and you can go on your dream vacation. The presented situation is the dream of most employees who wait all year round for their rest and the opportunity to go on vacation.
How to create company rules for requesting time off
The two most common ways to circulate vacation requests: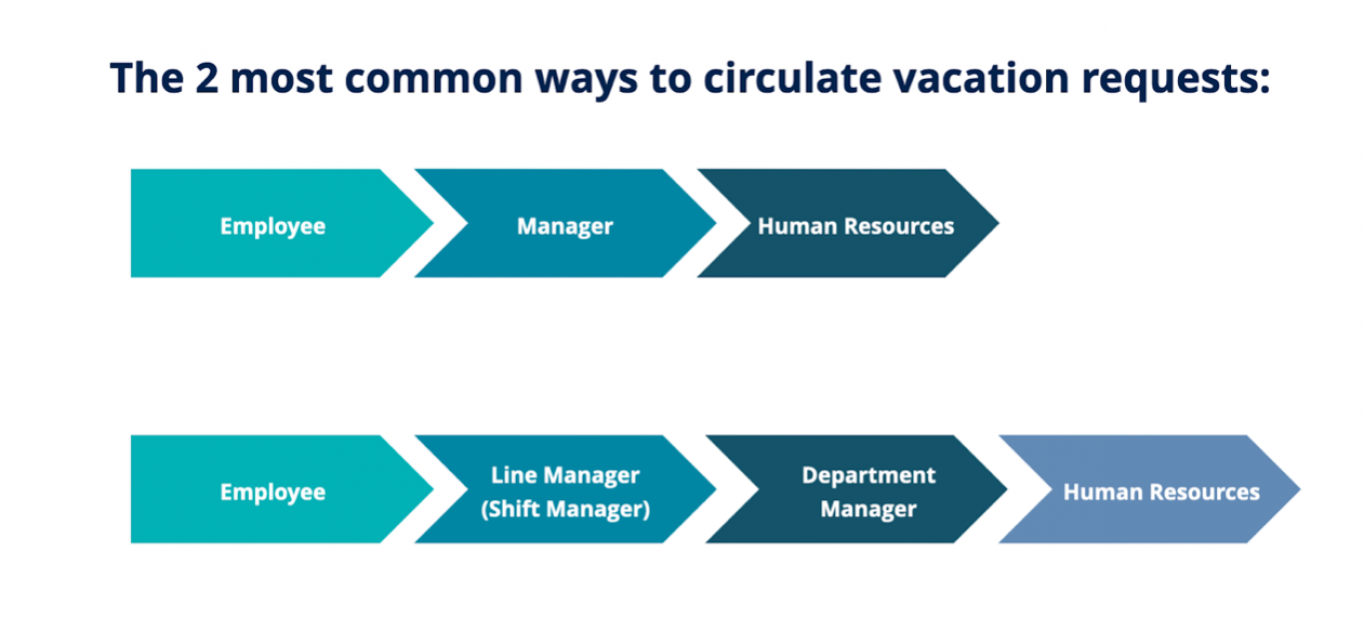 Employee - Manager - Human Resources
The easiest way of document circulation is also the most commonly used in most types of companies. The employee fills in the vacation application, which he sends to his supervisor, and only after its approval, the application sent to the staff who archives it.
This system has a one-step approval of leave requests (i.e., only the manager has to agree to leave).
Employee - Line Manager (Shift Manager) - Department Manager - Human Resources
The method used in production companies, FMCG, Retail, where there is an extensive structure. Itis necessary to ensure smooth work within a given group of positions or changes.
In such a structure of the vacation request workflow, the Line Manager or Shift Manager has access only to the preview of directly subordinate employees' vacation requests. Department Manager has access to all sections within the structure, which allows him to plan individual employees' classification, if necessary.
This system has a two-stage acceptance of leave requests.
What types of leave requests should include in the electronic request system?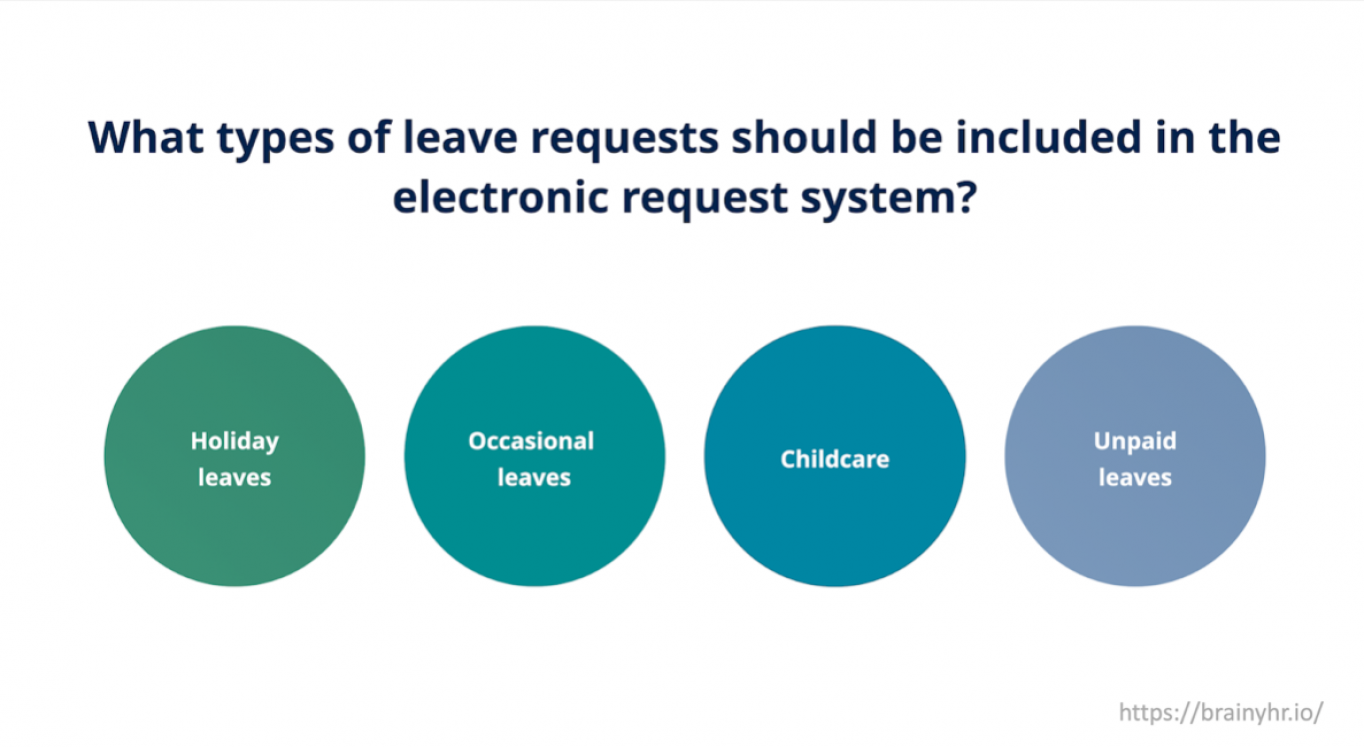 - Holiday leaves,
- Occasional leaves,
- Childcare,
- Unpaid leaves.
It is also worth placing in the electronic system templates of documents allowing for the declaration of:
- Days off for public holidays falling on a non-working day,
- Delegation,
- Private departures during working hours,
- Overtime.
The latter are important because they can constitute the basis (along with data from the working time settlement system) to pay overtime pay.
Automated absence process in your company
Integrate Brainy HR to make time-off process as simple as it possible!
How to ensure efficient circulation of holiday requests?
- Ensure that employee knows their rights and obligations related to holidays and knows where to download and how to complete the application.
- Allow the employee to monitor his absences and view his vacation days,
- Create an approval path and set the maximum deadline for accepting a vacation request (e.g., one week) along with an e-mail reminder about the need to make a decision (thanks to this, the employee always knows how long he has to wait for a decision, and you will not forget to make it),
- Integrate the electronic application flow system with the HR system to reduce errors.
An employee may find himself exhausted and overwhelmed by too many work duties. At such times, a day off may prove necessary to regain full strength and spend time effectively in the workplace.
What functionalities should the employee time off request have?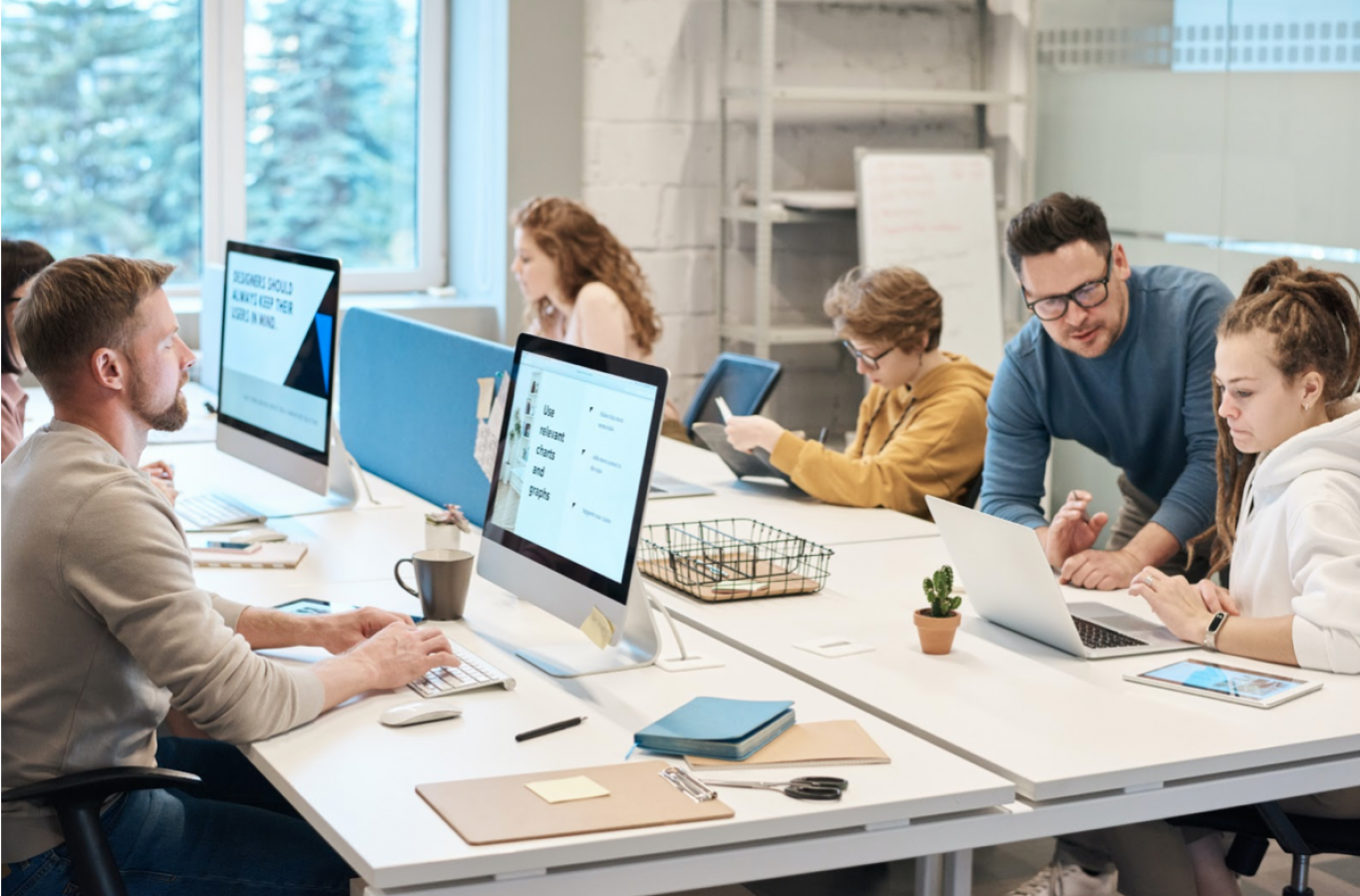 A reasonably designed vacation management system is beneficial for both employers and employees. The management gets access to an efficient and easy-to-use tool, and the team can enjoy the convenience, flexibility, and transparency of the holiday-related processes. A sound vacation request management system should have the following functions and features:
1. Immediate start of the process
Immediately after applying the system, the employee should receive an e-mail notification about the case's status and check the available leave. The supervisor should receive information about the requested withdrawal. Thanks to this, he can respond to him immediately, and the employee does not even have to leave the desk.
2. Easy customization of the approval process
In some companies, a one-step approval of the application is sufficient, while others require a slightly more extensive process. A sound system allows you to adjust the approval scheme individually for an employee or the entire organizational unit and consider the designed and tested methods. But the devil is in the detail - even a simple process should include all necessary exceptions and sometimes rarely used but legally required options.
3. Visibility of who is on vacation and by when
A report showing the situation in the company is an excellent tool for holiday management. Insight into the absence of subordinate employees helps team leaders with communication and work planning. Besides, it facilitates the management of tasks by appointing system deputies for absent people responsible for their affairs during their leave.
Besides, employees appreciate the transparency and availability of vacation information regarding current, overdue, used, requested, or remaining leave. Collecting all this information in one place makes it easier to manage your holiday arrangements with your superiors.
An efficient system also allows for convenient keeping of files containing full information about available and used leave. Of course, the system should allow you to apply for a vacation right from there.
Guide to Employee Vacation request policy
In many organizations, vacation requests submitting in paper form to their manager, who then forwards the application to the human resources department. Organizations that have undergone at least a partial digital transformation have implemented e-mail claim processing. However, even the latter method is not optimal in terms of speed and relieves the HR department from unnecessary administrative tasks.
Watch the recording
Today, automation is reaching more and more activities related to human resources and HR processes. Employees can now check their training history, career opportunities and communicate with management and other crew members. Without visiting the office, you can apply for a certificate or use it for a vacation.
Today, with the HR program's help, you can easily handle the insertion of vacation requests. Also, It can fold in the system, and after a second, the supervisor gets it on his desktop. Literally, after a while, the employee receives feedback on whether he can go on vacation the next day or not.
Vacation request
Handling leave requests are straightforward, both for the employee, the supervisor, and the HR department. The employee goes to the department with applications on his profile, selects a new application, and then a vacation application. On the calendar, he indicates the days he will be absent and suggests a replacement person.
The employee can place information about his leave on the public profile - then the information will be available to other employees. After saving the application, it is still possible to review the application. After checking, you can send the application to your supervisor.
Team lead or boss reconciliation
The superior has access to information about the application and the data of the person who applies for it. The manager can accept or decline the request. In case of rejection, the manager may comment on the reason for the decision. If the application is accepted, the employee receives automatic information immediately.
How much can you save by using the application instead of the traditional form of handling vacation requests? Let's show it in an example.
The traditional method is as follows:
- The employee prints the leave application;
- passes to the supervisor for approval;
- after obtaining the signature, it gives to the HR department;
- the HR department enters the application into the system and then settles the leave;
​
The electronic method is as follows:
- The employee submits an online application;
- the supervisor accepts the application online;
- the HR department settles leave based on an online application.
See how easy it is to handle a vacation request in an automated method.
Five smart tips and tricks of handling time-off requests
Companies should tackle vacation planning for the new year in good time. It requires a lot of time and skill to ensure employee interests on the company's one hand and smooth processes. With these tips, you can avoid potential conflicts when planning a vacation in your company.
Plan the vacation and consider your company's needs
Popular dates such as long weekends, Christmas, the end of the year, and remaining vacation
Company events such as anniversaries, Christmas parties: Make sure that not too many employees go on vacation on these dates. These celebrations should strengthen the sense of togetherness in the company and not be missing half the workforce:
Religious holidays: Keep the most important holidays of your Muslim employees, for example, in mind.
Regulate who represents whom on vacation
With vacation management, your employees can also access vacation planning from home and submit a vacation request.
Planning your vacation at an early stage also includes assessing your company's needs. Managers know in advance when essential projects are pending or when there is a lot of little to do in specific industries and can impose a holiday ban or company holiday for these periods.
With vacation management software, you can enter company vacation and vacation locks for individual departments or the entire company. If the employees submit a vacation request in the software during a vacation lock period, they are automatically aware that no vacation is possible during this period.
2. Use a simple form for PTO requests
The vacation is intended for relaxation so that your employees can return to their daily work with renewed energy. It certainly has a positive effect on the results on the one hand, and on the other hand, it helps avoid accumulations of remaining vacation. Create clear company rules and start to use PTO requests - it simplify your HR life. If your employees can only take annual leave towards the end of the calendar year for operational reasons, give these employees priority over the claims of colleagues who want to grab a new exit.
With online vacation management, you can always keep track of your employees' flextime credit, overtime, or remaining vacation time in the form of an annual calendar, departmental calendar, or team calendar. The employees themselves also have an overview of their vacation requests and current vacation entitlements in their online vacation planning at any time. You can also set an automatic vacation expiry and carryover in the software to make it easier for HR managers to manage time-off requests remaining vacation.
3. Watch out for overlaps
Design your vacation planning in such a way that employees with similar areas of responsibility do not have any vacation overlaps. Make sure that they do not apply for leave in quick succession.
Online vacation planning helps you ensure that the vacation days of individual employees do not overlap. The department calendar shows you, at a glance, the absence of all employees in One or all departments. The team calendar enables you to keep an eye on your team on a project-by-project basis, across departmental boundaries.
4. Arrange the representation of your employees
When planning your vacation, take into account who will represent whom on vacation so that there are no friction losses when employees go on vacation. Online vacation planning gives you the option of forwarding applications to a vacation replacement if a manager is absent. It ensures that vacation requests, time compensation requests, time booking requests, and requests for other employee absences are processed promptly.
5. Store time off all information in one place
When an employee goes on vacation, a good handover of tasks and projects is the be-all and end-all so that operations continue to run smoothly. Require your employees to hand over essential processes, open projects, responsibilities, access rights, files, and contacts cleanly in advance.
An online HRIS management system such as Brainy HR offers you all the functions you need for efficient vacation planning and management of vacation or time compensation entitlements and other absences. Employees' vacation entitlements are automatically calculated based on the work models and visible to employees and superiors.
Final Thoughts
Of course, the process and form of vacation registration may be different; they depend on the company's internal regulations and procedures. But the essence remains the same - with the help of platform solutions and an internal corporate portal, and registering employee vacations can be automated. And this will entail many benefits in the correct registration of employee vacations:
reducing the time for creating a vacation request, its approval and approval
reducing the risks of incorrect filling out of the vacation application template (if there are errors, the system will immediately indicate them and will not allow sending the document for approval)
automatic tracking of the period of paid vacation (if the employee is entitled to 21 days, and he filled in 23 days, then the system will indicate this error)
loss of documents during approval and subsequent storage (all documents at all stages automatically saved in a structured file storage)
quick generation of various reports on employee vacations.
Thus, thanks to modern technologies of platform solutions, it is possible to optimize, simplify and secure the process of documenting employee vacations, significantly reduce labor costs and remove additional responsibility from the shoulders of HR specialists.
Sign up for an online demo and see it in action